Indian Stock Market News September 23, 2019
Sensex Climbs 975 Points Up; FMCG Stocks Fuel the Rally
Asian share markets started higher on Monday on hopes of an interim Sino-US tariff deal after the two countries described their talks as "productive" and "constructive". Wall Street dropped on Friday, and also finished the week lower, after a Chinese agriculture delegation cancelled a planned visit to Montana, dampening optimism about US-China trade talks.
Back home, India share markets opened substantially higher today. The BSE Sensex is trading up by 975 points while the NSE Nifty is trading up by 285 points. The BSE Mid Cap index and BSE Small Cap index opened up by 2.2% and 1.7% respectively.
Barring IT stocks, all sectoral indices have opened the day on a positive note with FMCG stocks and oil & gas stocks witnessing maximum buying interest.
--- Advertisement ---
3 Stocks to Consider Buying

Our small cap MEGA Event went LIVE yesterday.

You see, 16,100+ people have signed up for this summit because Richa Agarwal promised to reveal the details of 3 high potential small cap stocks which one can consider investing right now.

Don't take these stock revelations lightly. These 3 stocks recommendations are a result of rigorous filtering process and hundreds of hours of solid research work. But here you have a chance to access them all for free.

Click on this link to watch the event LIVE and learn the details of 3 stocks to consider investing in.
------------------------------
The rupee is currently trading at 71.92 against the US$.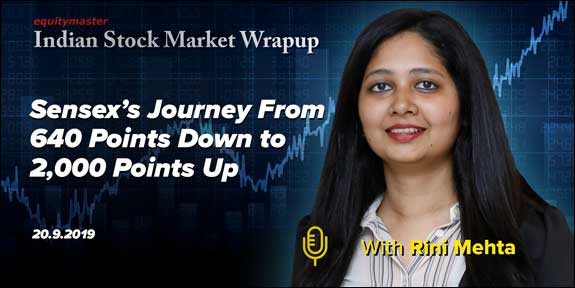 If you look at the stock market returns over the years, you will see that the markets have never moved in a linear fashion.
It has never been a one-way street - only up or down.
--- Advertisement ---
A Successful Small Cap Event

We went live yesterday with our small cap MEGA Event.

In this event, Richa Agarwal, one of India's highly respected stock market analysts, reveals the details of 3 stocks you must consider buying.

Click here to watch the video before it goes off air.
------------------------------
Stock markets have always moved in cycles.
If you would have bought stocks when either the Sensex or the Smallcap index was in a downturn, you would have made big returns once the cycle turned and the bulls took over.
The Time to Buy Stocks is Now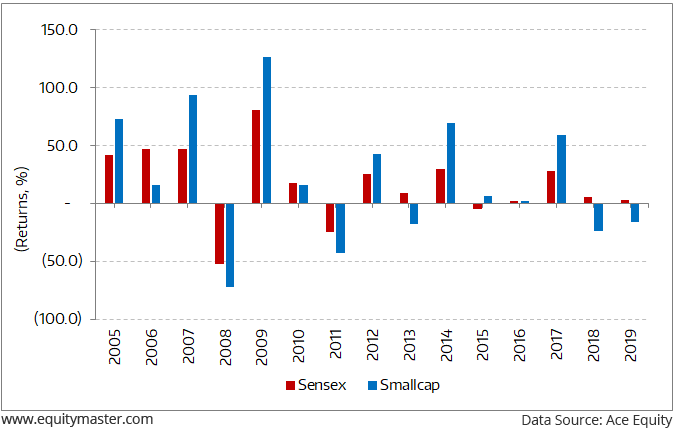 The economic slowdown does not herald the end of the world or for that matter the end of India. It's a phase and like all phases - This too shall pass.
The real question is - Are you taking advantage of these price declines to buy quality stocks?
In the news from the oil & gas sector. Petronet LNG share price will be in focus as Tellurian Inc. has signed a US$7.5 billion agreement for India's Petronet LNG to buy a stake in its proposed liquefied natural gas (LNG) terminal in Louisiana
As per the reports, it could potentially be one of the largest foreign investments in the US for shipping shale gas abroad.
Petronet will spend US$2.5 billion for an 18% equity stake in the US$28 billion Driftwood LNG terminal, the largest outside holding so far in the project, and negotiate the purchase of 5 million tonnes of gas per annum.
The deal, signed in Houston in the presence of Prime Minister Narendra Modi, underscores a record year for the LNG industry, with tens of billions of dollars' worth of export projects given the green light.
The surge of new supply from the US' trove of shale gas has rendered the once-premium fuel accessible for emerging markets such as India, currently the sixth-largest buyer of US LNG.
The pact was signed on the sidelines of Modi's meeting with top executives of US energy majors in Houston. In his first engagement during his week-long visit to the US, Modi met 17 CEOs of US energy companies such as Tellurian Inc., Exxonmobil, BP Plc, Cheniere Energy, Dominion Energy, and Total SA.
India has been sourcing LNG and crude oil from the US, with Indian companies investing US$4 billion in US shale gas assets.
India, the biggest emitter of greenhouse gases after the US and China, has been pushing for a gas-based economy and plans to connect 10 million households to piped natural gas by 2020.
Moving on to the news from the pharma sector. In the latest development, Cipla on Sunday announced the closure of the inspection by the US health regulator at the company's API manufacturing facility in Bengaluru.
Following the inspection by the United States Food and Drug Administration (USFDA) at the Company's API manufacturing facility in Virgonagar, Bengaluru, from July 15 to 19, the company has received the Establishment Inspection Report (EIR).
This indicats closure of the inspection.
In another development, Torrent Pharmaceuticals is expanding its recall for Losartan Potassium Tablets USP and Losartan Potassium/hydrochlorothiazide tablets, USP, to the consumer level due to the detection of trace amounts of an unexpected impurity.
The recall is expanded to include an additional 3 lots of Losartan Potassium Tablets USP and 2 lots of Losartan Potassium/Hydrochlorothiazide Tablets, USP.
Reportedly, Torrent is only recalling lots of losartan-containing products that contain N-Methylnitrosobutyric acid (NMBA) above the acceptable daily intake levels released by the FDA.
Losartan is used to treat hypertension, hypertensive patients with Left Ventricular Hypertrophy and for the treatment of nephropathy in Type 2 diabetic patients.
Cipla share price opened down by 1% while, Torrent Pharma share price opened up by 1.7%.
To know what's moving the Indian stock markets today, check out the most recent share market updates here.
For information on how to pick stocks that have the potential to deliver big returns,
Read the latest Market Commentary
Stock Market Updates
Oct 15, 2019 03:32 PM
BANDHAN BANK LTD share price has hit a 52-week high. It is presently trading at Rs 638. BSE 500 Index is up by 0.7% at 14,723. Within the BSE 500, BANDHAN BANK LTD (up 11.1%) and INDIA TOURISM DEV. (up 10.0%) are among the top gainers, while top losers are VA TECH WABAG and INDIABULLS VENTURES.
Oct 15, 2019 03:02 PM
JAI CORP LTD share price has surged by 7% and its current market price is Rs 81. The BSE METAL is up by 2.2%. The top gainers in the BSE METAL Index is JAI CORP LTD (up 7.4%).
Oct 15, 2019 03:02 PM
HINDUSTAN COPPER share price has surged by 5% and its current market price is Rs 32. The BSE METAL is up by 2.2%. The top gainers in the BSE METAL Index is HINDUSTAN COPPER (up 5.3%).
Oct 15, 2019 02:56 PM
STRIDES PHARMA SCIENCE share price has surged by 5% and its current market price is Rs 356. The BSE HEALTHCARE is up by 0.7%. The top gainers in the BSE HEALTHCARE Index is STRIDES PHARMA SCIENCE (up 5.0%). The top losers are ABBOTT INDIA (down 0.1%) and PIRAMAL ENTERPRISES (down 0.2%).
Oct 15, 2019 02:56 PM
SAIL share price has surged by 5% and its current market price is Rs 34. The BSE METAL is up by 2.6%. The top gainers in the BSE METAL Index is SAIL (up 5.1%).
Oct 15, 2019 12:30 pm
The BSE Sensex is trading up by 303 points, while the NSE Nifty is trading up by 83 points.
View More Indian Share Market News
Most Popular
Oct 14, 2019
This is once in a decade opportunity to make a killing from smallcap rebound.
Oct 7, 2019
Here's what every individual investor must know about Yes Bank...
Oct 4, 2019
The secret to multibagger is not big businesses, but great managements... Here's how to find them to make the most of once in a decade rebound opportunity.
Oct 10, 2019
There are rare periods in markets when you get good quality stocks at attractive valuations. Is this one such period?
Oct 11, 2019
Now is the time to put money in these 5 stocks to take advantage of the recovery in the economy and the markets.
More