Indian Stock Market News October 6, 2017
Strong Finish to the Week; Steel Stocks Rally
Indian share markets continued to soar in the afternoon session and finished in green for a fifth session of gains in six. At the closing bell, the BSE Sensex closed higher by 222 points and the NSE Nifty finished up by 91 points. The S&P BSE Mid Cap finished up by 1% while S&P BSE Small Cap finished up by 0.7%. Gains were largely seen in metal stocks, oil & gas stocks and PSU stocks.
Asian stock markets finished higher today with shares in Japan leading the region. The Nikkei 225 is up 0.30% while China's Shanghai Composite is up 0.28% and Hong Kong's Hang Seng is up 0.28%. European markets are mixed today. The FTSE 100 is up 0.19% while the DAX gains 0.09%. The CAC 40 is off 0.17%.
Rupee was trading at Rs 65.22 against the US$ in the afternoon session. Oil prices were trading at US$ 50.42 at the time of writing.
Tata steel share price surged 4.7% in today's trade after the steelmaker said its provisional production and sales in India rose 11% and 19.5%, respectively, in the second quarter.
The company's sales volume increased 17% on a year-on-year (yoy) basis to 6.4 million tonne (MT) and production grew by 4.7% yoy to 6.22 MT in Q2FY18, according to the provisional production and sales performance figures released by the company on Wednesday after market hours.
Tata Steel said it blast furnaces and sinter plants at the Jamshedpur achieved the best-ever second quarter production of 2.8 MT and 2.9 MT, respectively. The previous best for both had been reported in Q2FY16. Meanwhile, Tata Steel Europe deliveries were higher, reflecting stable market conditions and improved finishing processes.
Other steel stocks also finished firm with SAIL share price and Maharashtra Seamless share price leading the gains.
In another development, Tata Motors share price finished on an encouraging note (up 0.3%) after company's subsidiary -- Jaguar Land Rover (JLR) has reported total retail sales of 65,097 vehicles in September, up 6.6% compared to September 2016, primarily reflecting continued solid sales of the F-PACE as well as the introduction of the Range Rover Velar, Jaguar XF Sportbrake and long wheel base Jaguar XFL in China.
Jaguar retail sales were 18,336 vehicles in September, up 3.9% on September 2016, primarily driven by continued solid sales of F-PACE and the introduction of the long wheel base XFL in China.
Just Released: Multibagger Stocks Guide
(2017 Edition)
In this report, we reveal four proven strategies to picking multibagger stocks.
Well over a million copies of this report have already been claimed over the years.
Go ahead, grab your copy today. It's Free.
NO-SPAM PLEDGE
- We will NEVER rent, sell, or give away your e-mail address to anyone for any reason. You can unsubscribe from The 5 Minute WrapUp with a few clicks. Please read our
Privacy Policy
&
Terms Of Use
.
In news from the economy, as per a leading financial daily, India Ratings and Research (Ind-Ra) in its latest report has said that the transition to the new nationwide goods and services tax (GST) regime would significantly affect the micro, small and medium enterprise (MSME) space more than other industries, as industry participants lack compliance infrastructure to map the entire outstanding inventory with tax invoices.
It also noted that MSMEs' weak credit profile and risk weights attached to the loans extended to this sector in banks' books could force the sector to resort to borrowings from non-bank finance companies. Furthermore, it has warned that this is costlier than borrowing from banks and could aggravate the credit impact of the GST transition on the MSME space.
However, the rating agency said that large corporates and firms with streamlined infrastructure may find it easy to map the entire outstanding inventory with tax invoices. It also noted that the new tax regime would also result in higher working capital requirements for most participants in manufacturing sector like steel, textile, auto and auto ancillary.
It estimated that working capital requirement to rise by 200 - 450 basis points of revenue for steel sector, 500 basis points of net value addition across the value chain for the textile industry. It also indicated that the increase in working capital requirement, as a proportion of revenue, would aid bank credit growth for large corporates.
Ind-Ra believes that industry participants' ability to tide over working capital mismatches during the implementation phase and beyond would be relative to their balance sheet strengths and capital market access.
Moving on to news from banking sector. As per an article in The Livemint, a planned consolidation in India's state-run banking sector may lead to 10 to 15 lenders that are majority owned by the government, down from the current 21.
Reportedly, the government may cut its stakes in state-run banks to 52%. The government has previously said it was open to lowering its stakes in the banks, but would retain majority ownership.
In another development, State Bank of India (SBI) will prepare a blueprint for the next three years that would include targets and benchmarks mainly related to asset quality, credit growth, digitization and human resources management.
Currently, like most of its peers, SBI's profitability is under strain because of bad loans and sluggish credit growth, and resolving both these issues remains a top priority.
At the end of June, the bank was weighed down by gross non-performing loans of Rs 1.88 trillion or almost one-tenth of its total advances. SBI is also the lead bank in a majority of the 40 cases referred for bankruptcy proceedings at the National Company Law Tribunal (NCLT).
The company expects retail loans, including those for small and medium enterprise, agriculture, will be the key drivers for growth, because demand for corporate loans remains muted.
Slow Credit Growth Impairs Core Income Driver for Banks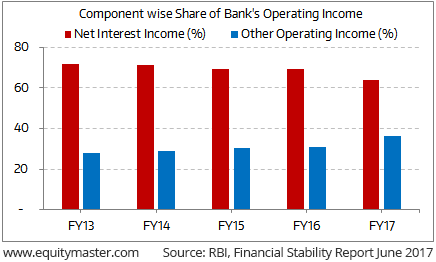 When the times were good, banks were accused of 'lazy banking'. They made money on treasuries and stayed away from lending. Later, rising bad loans made banks wary of extending more corporate loans. So, after dwindling to single-digits in the past three years, bank credit growth slowed down to a multi-decade low of 4.4% in FY17. This has curtailed Net Interest Income which is the core source of income for banks.
Net Interest Income is the interest income earned after adjusting for interest expense made in the form of cost of funds and deposits. The share of Net Interest Income in the bank's total operating income fell from 72% in FY 13 to 64% in FY17. And despite treasury gains, banks' average shareholder's returns slipped from over 10% last year to below 5% during this period.
Bank stocks finished on a strong note with PNB share price and UCO share price leading the gains.
And here's a note from Profit Hunter:
The Nifty 50 Index traded on a strong note during the week. On Tuesday, it opened 104 points gap up but slipped a bit lower to end the session 71 points up. But the bullish momentum continued as the index witnessed buying interest on the next day as RBI announced its fourth bi-monthly policy keeping the key interest rate unchanged. The index traded dull on Thursday but resumed its up move on the final of the week where it rose almost 100 points just shy of 10,000 mark. The Nifty ended the weekly session 1.95% up.
Although the index rallied during the week, looking at the broader perspective, it is stuck in a range of 9,700 - 10,150 since July. Unless we see a sustain break out on the either side of this range, the index trend remains uncertain bouncing between the walls of 9,700 and 10,150.
Nifty 50 Index Witnesses Buying Interest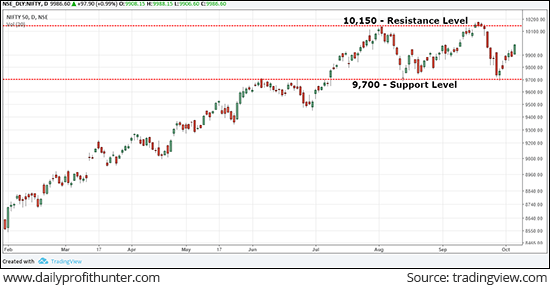 For information on how to pick stocks that have the potential to deliver big returns,
Read the latest Market Commentary