Indian Stock Market News November 8, 2019
Sensex Ends 330 Points Lower; Oil & Gas and FMCG Stocks Witness Huge Selling
India share markets witnessed huge selling pressure during closing hours and ended their day deep in the red.
At the closing bell, the BSE Sensex stood lower by 330 points (down 0.8%) and the NSE Nifty closed down by 106 points (down 0.9%).
The BSE Mid Cap index ended the day down 0.8%, while the BSE Small Cap index ended the day down 0.6%.
Sectoral indices ended on a mixed note. Stocks in the oil & gas sector and FMCG sector witnessed most of the selling pressure, while banking stocks and realty stocks were trading in the green.
The rupee was trading at 71.27 against the US$.
Asian stock markets finished on a mixed note. As of the most recent closing prices, the Hang Seng was down by 0.70% and the Shanghai Composite was down by 0.49%. The Nikkei 225 was up 0.26%.
European markets were trading on a negative note. The FTSE 100 was down by 0.29%. The DAX was trading down by 0.25%, while the CAC 40 was down by 0.36%.
--- Advertisement ---
You're missing out on a profit source that's up to 200X bigger than stocks

Stocks have been performing terribly over the last 2 years...And it's probably cost you a lot of money.

But what if we told you that instead of stocks - there's another profit source that you can tap into...

One that's up to 200 times bigger than stocks...

And has the potential to deliver explosive payouts like Rs 63,400 in 1 day, Rs 18,250 in 1 day, Rs 13,950 in less than 12 hours and a lot more.

When you can tap into a profit source like this, you won't need to rely on stocks to build a fortune.

Now over the last 30 years, India's #1 trader has been using a special Blueprint to trade these profit sources...And we've convinced him to share it with you.

All you need to do is register for a special summit we're holding on the 26th of November.

Register now – it's free.

*Past performance does not guarantee future results.
*Two lots of each trade have been assumed to calculate the returns of all the backtest examples used.
------------------------------
Speaking of the volatility witnessed in Indian share market lately, if you look at the stock market returns over the years, you will see that the markets have never moved in a linear fashion.
What do I mean by that?
It has never been a one-way street - only up or down.
Stock markets have always moved in cycles.
Here's what Radhika Pandit wrote about this in a recent edition of The 5 Minute WrapUp...
If you would have bought stocks when either the Sensex or the Smallcap index was in a downturn, you would have made big returns once the cycle turned and the bulls took over.

Sarvajeet and I believe we are seeing a similar situation currently.

The economic slowdown does not herald the end of the world or for that matter the end of India. It's a phase and like all phases - This too shall pass.
So, the real question is - Are you taking advantage of these price declines to buy quality stocks?
Also, amid the volatility witnessed in stock markets lately, Tanushree Banerjee, in the video below, talks about the Rebirth of India phenomenon and how 3 specific trends are racing ahead even in these gloomy times.
Tune in to find out more...
In the news relating to financial markets, mutual funds' asset base increased to Rs 26.33 lakh crore in October-end. This was a rise of 7.4% as compared with the preceding month and the same was seen on the back of robust inflows in equity and liquid schemes.
According to data from the Association of Mutual Funds in India (AMFI), the mutual fund industry logged an asset under management (AUM) of Rs 24.5 lakh crore in September-end.
Mutual fund houses witnessed an overall inflow of Rs 1.33 lakh crore last month after witnessing a redemption of Rs 1.52 lakh crore in September. Of these, liquid funds alone witnessed an impressive over Rs 932 billion last month.
As per the news, fund managers attributed growth in the asset base to higher retail participation and robust inflows in equity schemes and liquid funds.
The open-ended equity schemes witnessed an infusion of Rs 60.2 billion, while there was a small outflow of Rs 110 million in close-ended equity plans, taking total equity inflows to Rs 60.1 billion last month. In September, net inflow in such schemes stood at Rs 64.8 billion.
Among debt-oriented schemes, liquid funds with investments in cash assets such as treasury bills, certificates of deposit and commercial paper for shorter horizon saw an infusion of Rs 932 billion last month as compared to an outflow of Rs 1.4 lakh crore in September.
Overall, debt funds saw an inflow of Rs 1.2 lakh crore.
Besides, gold exchange-traded funds saw an outflow of Rs 31.45 crore after witnessing inflow in the preceding two months. The safe-haven asset saw an infusion of Rs 440 million in September and Rs 1.45 billion in August.
How this trend pans out in the coming months remains to be seen. Meanwhile, we will keep you updated on all the developments from this space.
In the news from the energy space, Bharat Petroleum Corporation Ltd (BPCL) share price was in focus today as the company reported 40.1% year-on-year (YoY) jump in its net profit at Rs 17 billion for the second quarter ended September 30, 2019.
The growth was aided by tax reversal of Rs 5.8 billion based on favourable judgments from Income Tax Appellate Authorities over multiple issues. On the quarter-on-quarter basis, the profit grew 55% compared to Rs 10.7 billion in the June quarter.
Revenue from operations decreased 9.4% to Rs 750.5 billion in July-September of this fiscal as against Rs 829.2 billion in Q2FY19. The figure stood at Rs 858.6 billion in June quarter this year.
On the consolidated basis, the net profit stood at Rs 15 billion and revenue from operation was at Rs 756.2 billion during the quarter under review.
The earnings announcement comes at a time when the government is planning to sale controlling stake in BPCL.
On September 30, a core group of secretaries on divestment approved the privatisation of BPCL, which is likely to be completed by March 31, 2020.
The stake sale in BPCL is likely to see bids from international oil giants such as Saudi Aramco, Rosneft, Kuwait Petroleum, ExxonMobil, Shell, Total SA and Abu Dhabi National Oil Co.
How this development pans out remains to be seen. Meanwhile, we will keep you updated on all the developments from this space.
--- Advertisement ---
Our No. 1 Recommendation for 2020

This tiny company is Richa Agarwal's No. 1 Small Cap Stock for 2020…

It is a little-known company which trades around Rs 300, but is the backbone behind industry giants like Asian Paints, Vadilal and Heinz…

And has immense profit potential for early investors.

Get all the details here.
------------------------------
Moving on to the news from the commodity space, gold was witnessing buying interest today as investors sought safe-haven bets in the yellow metal after rating agency Moody's downgraded its outlook for India.
Moody's changed India's outlook to negative from stable while affirming India's Baa2 ratings.
The ratings agency expects Indian government to face very significant constraints in narrowing general government budget deficit and preventing a rise in debt burden.
In the global markets, however, gold prices were tepid, after dropping up to 2% in the previous session as hopes of headway in the Sino-US trade deal boosted risk-on sentiment, denting gold's appeal.
Note that as many central banks diversify their portfolio, they are adding gold to their portfolio as global growth slows and trade and geopolitical tensions rise.
Also, speaking of gold, co-head of research, Tanushree Banerjee shares some interesting information on the Sensex to Gold (per 10 grams) ratio going back 15 years.
Have a look at the chart below...
Sensex versus Gold in Fairly Valued Zone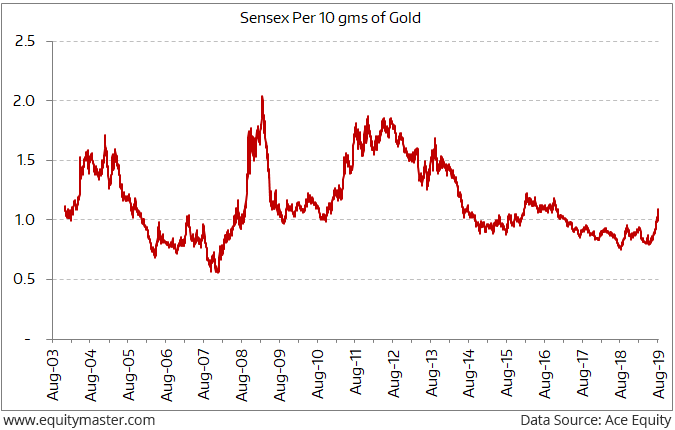 Here's what she wrote about it in one of the editions of The 5 Minute WrapUp...
While the ratio has been quite volatile, the average ratio turns out to be 1.

In other words, whenever the Sensex has risen at a much faster pace than gold prices, its fall has also been equally precipitous. The reason behind this volatility is not hard to find.

Stock markets are more amenable to manipulation than gold prices are.

Thus, if the Sensex to gold price ratio is way more than one, it could be a signal the Sensex is overvalued.

Alternatively, if it is way below one, it could mean that Sensex is undervalued.

The ratio stands at around 1.09 currently, indicating that the Sensex is trading pretty close to its fair value!
Thus, even though the market correction seems overdone in mid and smallcaps, the bluechips, particularly those in the Sensex, aren't undervalued yet.
To know what's moving the Indian stock markets today, check out the most recent share market updates here.
For information on how to pick stocks that have the potential to deliver big returns,
Read the latest Market Commentary
Stock Market Updates
Nov 14, 2019 11:55 AM
MAGMA FINCORP share price has plunged by 5% and its current market price is Rs 46. The BSE 500 is up by 0.3%. The top gainers in the BSE 500 Index are AEGIS LOGISTICS (up 6.1%) and DR. LAL PATHLABS LTD (up 5.1%). The top losers are MAGMA FINCORP (down 5.3%) and AUROBINDO PHARMA (down 8.2%).
Nov 14, 2019 11:51 AM
DR. LAL PATHLABS LTD share price has surged by 5% and its current market price is Rs 1,584. The BSE HEALTHCARE is up by 0.2%. The top gainers in the BSE HEALTHCARE Index is DR. LAL PATHLABS LTD (up 5.0%). The top losers are DR. REDDYS LAB and ERIS LIFESCIENCES LIMITED .
Nov 14, 2019 11:03 AM
IPCA LABS share price has hit an all time high at Rs 1,119 (up 2.7%). The BSE HEALTHCARE Index is up by 0.1%. Among the top gainers in the BSE HEALTHCARE Index today are IPCA LABS (up 2.7%) and ABBOTT INDIA (up 3.0%). The top losers include ERIS LIFESCIENCES LIMITED and DR. REDDYS LAB (down 0.1%).
Nov 14, 2019 10:47 AM
AU SMALL FINANCE BANK share price has hit an all time high at Rs 847 (up 2.1%). The BSE BANKEX Index is up by 0.3%. Among the top gainers in the BSE BANKEX Index today are AU SMALL FINANCE BANK (up 2.1%) and HDFC BANK (up 0.5%). The top losers include BANK OF BARODA (down 0.6%) and SBI (down 0.7%).
Nov 14, 2019 Pre-Open
Top cues to track in today's stock market session.
View More Indian Share Market News
Most Popular
Nov 1, 2019
After PI Industries, Hawkins has put up a stellar show so far.
Nov 7, 2019
Is this the beginning of the end of multibagger gains in quality stocks like Nestle, HUL, and Asian Paints?
Nov 5, 2019
How to avoid the most common investing mistake and make the most of the smallcap rebound.
Nov 5, 2019
Charlie Munger's favorite fictional character, Mr Glotz, picks stocks using this metric.
Nov 8, 2019
Investors who took cues from Moody's rating downgrade in 1992 and 2002 created some of the biggest wealth of their lifetime.
More