Jan 23, 2023 - Tata vs Tata - Will the New Overtake the Old in 2023?
Tata vs Tata - Will the New Overtake the Old in 2023?
Jan 23, 2023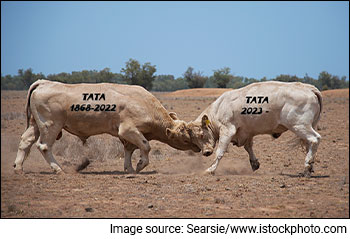 One of the most challenging decisions a company can make is whether to diversify: the rewards and risks can be extraordinary.
Over the last 150 years, the Tatas have had to make this decision more than once...
The Tata group which started off as a private trading firm in 1868 quickly diversified, venturing into a vast array of new industries, including steel, electricity, consumer goods, aviation, chemicals, technology, engineering, and software services.
Diversifying the group has been a huge part of the Tata growth story as the brand has seen a significantly higher portion of its revenue coming from newer streams over the years.
For the financial year ended on 31 March 2022, the revenue of all Tata companies, taken together, was US$128 billion (Rs 9.6 trillion), all thanks to the diversification of its assets.
And by diversifying continuously, the group has managed to stay relevant over a century and half, spreading its presence across multiple businesses ensuring higher returns in the long term for the group and its stakeholders.
Most importantly, the Tata group has consistently contributed to nation-building by diversifying into new industries and creating enterprises that laid the foundation of India's growth.
In 1902, the Tatas got into the hotel industry with the construction of the Taj Mahal Palace, a hotel "worthy of Bombay" where everyone would be allowed entry without discrimination.
If in 1907, the country needed its first steel manufacturing company, it was the Tatas that stepped up.
It is Tata Power that is credited with setting up one of India's first hydroelectric power stations in 1915.
In 1932, JRD Tata founded India's first commercial airline, Tata Airlines, later renamed as Air India.
The list is endless... decade after decade, the group has ventured into various unrelated businesses and succeeded where many others have failed.
But the common thread that remains is that the group has always taken path-breaking initiatives, many well ahead of their time, always placing the country and its needs at heart.
The group's success and foresight is evident by the fact that although most of its older businesses such as steel, chemicals and automotive continue to thrive, the new businesses such as software services, technology and consumer retailing have overtaken the old in terms of the contribution of revenues and profits to the group.
Which leads one to ask, what's next for this conglomerate...
Will 2023 mark the beginning of another shift... with the newer businesses overtaking the old once again?
Crawl, Walk or Run: The Tatas Just Won't Stop!
Imagine the Tata Group today without TCS...
But 25 years ago, TCS was tiny as compared to its group companies.
For instance, in 1997, TCS reported a revenue of US$290 million (m) and a gross profit of US$70 m. On the other hand, Tata Motors reported revenue of US$4 bn for the same year with gross profit coming in at US$400 m.
Fast forward to 2022. Revenue of TCS has grown to US$25 bn with net profit of US$5.1 bn whereas for Tata Motors, although the revenue has grown to US$37 bn, the company has reported a loss of US$1.5 bn for the year.
And this is how diversification in multiple businesses has allowed the Tatas to not only survive but thrive.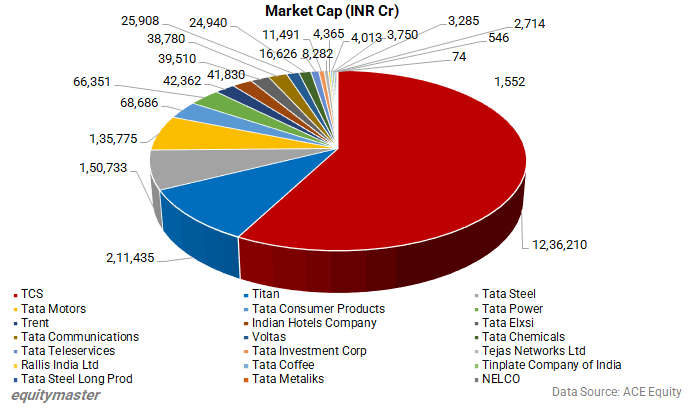 The Tata group has been able to hold its position as India's leading group for over 150 years due to its ability to identify businesses of the future and invest the best talent and money into nurturing these businesses into profitable and sustainable market leaders.
Today, TCS towers over its other group companies with a market cap larger than all other listed Tata companies combined together.
| Company Name | Market Cap (INR Cr) | Revenue FY 2022 (INR Cr) | Profit FY 2022 (INR Cr) |
| --- | --- | --- | --- |
| TCS | 12,36,210 | 1,60,341 | 38,187 |
| Titan | 2,11,435 | 27,210 | 2,180 |
| Tata Steel | 1,50,733 | 1,29,021 | 33,011 |
| Tata Motors | 1,35,775 | 2,78,453 | -1,391 |
| Tata Consumer Products | 68,686 | 7,932 | 886 |
| Tata Power | 66,351 | 11,108 | 2,783 |
| Trent | 42,362 | 3,881 | 250 |
| Indian Hotels Company | 41,830 | 2,003 | -34 |
| Tata Elxsi | 39,510 | 2,471 | 549 |
| Tata Communications | 38,780 | 6,587 | 1,167 |
| Voltas | 25,908 | 7,099 | 583 |
| Tata Chemicals | 24,940 | 3,721 | 802 |
| Tata Teleservices | 16,626 | 1,094 | -1,215 |
| Tata Investment Corp | 11,491 | 254 | 201 |
| Tejas Networks | 8,282 | 549 | -64 |
| Rallis India Ltd | 4,365 | 2,604 | 164 |
| Tata Coffee | 4,013 | 817 | 102 |
| Tinplate Company of India | 3,750 | 4,249 | 353 |
| Tata Steel Long Prod | 3,285 | 6,801 | 630 |
| Tata Metaliks | 2,714 | 2,746 | 237 |
| NELCO | 1,552 | 143 | 11 |
| Automotive Stampings & Assemblies | 546 | 607 | 52 |
| Tayo Rolls | 74 | 0 | -3 |
Source: Equitymaster
But in recent years, the group has acknowledged its overdependence on TCS as its profits remain disproportionately dependent on TCS.
Moreso, as the company has transformed into a behemoth, future growth in revenue and profit is expected in single digits.
Hence, more than ever before, the need to diversify is stronger now.
Simultaneously, the great Indian Growth story is playing out and the Tatas once again are all set to put their money where their mouth is...
As per The Economist, a newspaper, The Tata group is planning to invest a mammoth US$ 90 bn in new industries such as electric vehicles, batteries, mobile components, semiconductors, renewables energy and e-commerce by 2027.
Here are the top businesses that could potentially overtake the old over the coming years pushing the Tata group to newer heights.
#1 Digital
Buoyed by the accelerated adoption of digital services by consumers and small businesses alike, the Tata group is betting big on the digital space.
And by big, we mean big!
The Tatas have never before deployed funds at such a pace for any of their other businesses which indicates how important the Tatas believe this new vertical to be for their future growth.
Tata Digital's authorised share capital stood at Rs 10 bn in 2021. But over the last 2 years, the capital has been increased time and again and as of 31 December 2022, the authorised share capital stands at Rs 210 bn.
This is reflective of the group's aggressive expansion into the e-commerce business.
All the online commerce initiatives of the group are exclusively under Tata Digital. This includes BigBasket, Tata Neu, online pharma store 1mg, Croma and Tata UniStore, which owns and operates the e-commerce platform Tata Cliq.
N. Chandrasekaran, Chairman of the Tata group is keen on transforming the Tatas to be a leading tech company with its flagship super app called Tata Neu launched in 2022.
The Tatas foresee technology to disrupt most industries and hence by diverting the dividends received from its legacy businesses into Tata Digital, the group expects to capture most of the value created over the next decade into this sector.
Tata Digital is eyeing an estimated valuation of more than US$20 bn.
Tata 1MG has disrupted the diagnostics industry by offering routine tests at extremely low prices. In addition, the customer gets service at their home as per their convenience.
Tata 1MG also offers rewards and discounts on the retail price along with delivery at the customers doorstep hence not only competing with its online peers but also with the brick-and-mortar pharmacy local shops.
The company commands an approximate 18-20% market share in the e-pharmacy segment and has 40 million monthly unique users. BigBasket, the other major business of Tata Digital is the market leader of the online grocery market with a share of over 36%.
Grocery is the largest contributor to the retail basket of Indian consumers and after the pandemic, its online penetration unlike earlier has grown considerably.
Perhaps, this is what prompted the Tatas to acquire the company in 2021.
The online grocery and food market is estimated to reach a total market size of around $800 billion by 2024, making it a very important category for Tata Digital.
BigBasket is likely to list its shares in the primary markets within the next three years after being valued at US$3.2 billion, according to a Bloomberg report.
Croma crossed the US$1-billion sales mark in 2021-22, growing revenue by 53% to Rs 8.3 bn. Ecommerce sales grew by 204% last fiscal and contributed 9% to the total sales.Although all of these businesses are in the red, the huge opportunities in the Indian e-commerce space could outweigh the initial cash burnt in these new-age businesses.
In the future, these could be the star performers for the group into the next century.
It's important to note that Tata Digital reported a three-fold jump in consolidated revenue to Rs 159 bn in financial year 2021-22 from Rs 53 bn in the previous financial year.
When compared to most of the group's listed companies, this places Tata Digital as the 5th largest revenue contributor to the group just after Tata Motors, TCS, Tata Steel, and Titan Company.
Maybe that's a sign of things to come...
#2 Electronics
It is said that modern wars are fought with semiconductors.
Currently India Imports almost all semiconductors that it needs and its demand is estimated to reach around US$100 bn by 2025 from the current figure of US$24 bn. Previously companies had stayed away from investing in the semiconductor industry due to the complex manufacturing processes and heavy investments apart from the need for supply of uninterrupted clean water and electricity.
During the pandemic, amidst the global semiconductor shortage, countries like India realised the importance of semiconductors and the government of India announced the semiconductor scheme with an outlay of US$10 bn in December 2021.
Further in September 2022, the government sweetened the financial incentives scheme by providing fiscal support of 50% for setting up semiconductor fabs in the country across technology nodes and display manufacturing.
And as always, the Tatas have jumped in as they envisage huge potential in this new business vertical of the future.
The group's newly minted company, Tata Electronics Private Ltd (TEPL) has confirmed that it will set up an Outsourced Semiconductor Assembly and Test (OSAT).
OSAT, also referred to as assembly, testing, marking, and packaging (ATMP) units, plays a crucial role in semiconductor manufacturing as they package and test the silicon chips made at the foundries before they are shipped to the market.
TEPL also plans to foray into advanced chip manufacturing, popularly known as fabs, in a few years.
Tata Elxsi, is already into the business of semiconductor services that includes
multimedia frameworks, artificial intelligence tools and reference design solutions.
The Tata Group is in a position to leverage its presence in the global markets. Once it is successful in semiconductor assembly and testing, distribution may not be that cumbersome for the group because it already has global supply chains in its existing businesses.
Also, developing semiconductor chips will help the company in boosting its EV initiative. The semiconductor chip is a very important component for EVs.
There is huge potential in this sector for the group as the semiconductor business is pegged to reach US$1 trillion in revenue by 2030 globally.
Additionally, Tata Electronics is in advanced talks to take over Wistron Corp's iPhone manufacturing plant in South India.
Tata's deal would advance India's efforts to create local contenders to challenge China's dominance in electronics and be the first Indian company to make iPhones.
Hence, electronics could become an equally formidable revenue generator for the group in the future challenging its older businesses.
Electric Vehicles and Batteries
The automobile industry is expected to be fundamentally disrupted over the next decade as new megatrends emerge around the adoption of electric vehicles (EV).
Traditionally, the automotive industry involved vertical integration, where the supply chain is closely controlled by the automaker.
But that model, is undergoing a major transformation with the emergence of new platforms, like the electric car and autonomous vehicles, which demand a different manufacturing approach.
Going forward, the supply chain could evolve into more of an ecosystem.
And the Tatas are well prepared to cash in on this and become an integral part of the value chain.
The Tata Group is taking an integrated approach to electrification of the automobile industry.
Multiple group companies are working together to create an ecosystem for electric vehicles from the manufacturing of EV batteries, cells, components to creating charging facilities.
Tata Motors is already the market leader in the electric 4-wheeler segment with an impressive 82% share and the company is not willing to concede this lead.
Tata Motors plans to launch 10 new electric vehicles over the next 5 years and expects 50% of its sales to come from EVs by 2030.
Tata AutoComp, sources most of the EV parts for Tata Motors which gives it a huge advantage as compared to other automakers that are struggling to become more vertically integrated and less reliant on suppliers.Tata Chemicals has plans to manufacture battery cells and a battery recycling plant.
Tata Power Company Ltd is setting up charging stations and captive charger installations at customers' homes.
Tata Elxsi provides an advanced driver-assistance system (ADAS) technology platform to automotive original equipment manufacturers like Tata Motors.
And finally, there is Tata Technologies, a company that has been in the news recently for the first Tata group company to come out with an IPO since TCS in 2004.
Tata Technologies provides engineering and development services, digital enterprise services, product lifecycle management, education offerings, and IT service management to businesses across automotive, aerospace, industrial machinery, and other industries.
Tata Technologies has accelerated the speed of automotive technology innovations, with brand new electric, connected, autonomous, and shared mobility concepts.
Tata Technologies developed its first EV in 2012. Over the last 10 years, it has invested in building skills and intellectual property on EV technology.
Armed with this strong experience, the company has built strong relationships with some of the most progressive automotive companies in the world. This has set up Tata Technologies in a relatively unique way.
As battery-powered electric vehicles will grow in popularity and market share during the next decade, Tata Technologies is in a sweet spot to make the most of this megatrend.
According to a recent report in the Economic Times, Tata Technologies is looking to raise Rs 35 bn to Rs 40 bn through an IPO in 2023, valuing the company at around Rs 200 bn.
#3 Renewable Energy
India's energy demand is expected to increase more than that of any other country in the coming decades due to its sheer size and enormous potential for growth and development.
India has set a goal to achieve net zero carbon emissions by 2070 and to meet 50% of its electricity needs from renewable sources by 2030.
The Indian renewable energy sector is the fourth most attractive renewable energy market in the world and by 2026, new capacity additions are expected to double.
And with so much happening in this sector, it's obvious that the Tatas would not be sitting on the side lines...
Tata Power has the distinction of being an integrated player in the renewables space and is betting big on green energy.
The company is already India's largest player in the renewables space in terms of its manufacturing capacity and strength of its EPC contracts.
And it aims to double its total capacity from 13.5 gigawatts (GW) in 2022 to over 30 GW by 2027. The company plans to invest over Rs 750 bn in the next five years.
The company is focused on growing consumer centric and new-age energy solutions - solar rooftop, EV chargers, solar pumps, smart metering, and energy management solutions -- enabling power in the hands of the consumers.
Tata Power has the country's largest fleet of installed EV chargers with more than 13,000 home and 2,200 captive chargers, including public and bus chargers, demonstrating first-mover advantage in a market that, given India's need for energy security, has massive growth potential.
The company has plans to install EV chargers all over India, with an expected 100,000 charging stations over the next 10 years.
This gels very well with plans by the other group company, Tata Motors, to expand its EV business.
In 2022, Tata Power concluded a deal with the BlackRock Real Assets-led consortium, a testament to the huge growth potential of Tata's renewable energy business.
As part of the deal, the consortium will invest Rs 40 bn in Tata Power Renewable Energy Ltd (TPREL), the holding company for the newly consolidated renewable energy business of Tata Power, valuing the company at Rs 340 bn.
The company still believes the industry is at a nascent stage and there is a massive scope for growth in this sector.
"The future is going to be catalysed by the opportunities in renewable energy across the spectrum, be it utility scale or otherwise, as the global shift to clean energy intensifies," said Praveer Sinha, managing director and CEO of Tata Power.
The Tata group is all set once again to capitalise on this massive opportunity.
To Wrap it All Up...
The Tata group is perhaps the first name that springs to mind when one talks about a conglomerate being present across multiple businesses.
But the group isn't stopping yet. In fact, under Chandrasekaran, the group has stepped on the throttle diversifying into multiple new businesses.
Never before has the group been so aggressive, especially with its bets on new age businesses.
The Tatas have made serious commitments to invest billions of dollars into each of these businesses as the group believes they shall drive the future growth of the company.
Be it digital, electronics, renewable energy or electric vehicles, the group is expected to keep pushing boundaries to be more technologically advanced, sustainable and among the market leaders in every vertical within which they operate.
The expectations are high, and the future looks exciting for these new Tata businesses.
Investment in securities market are subject to market risks. Read all the related documents carefully before investing
Want to Grow Your Wealth With Safe Stocks?
If you want a simple, safe, and hassle-free approach to long term wealth building...
Without having to worry about negative news or every little downswing in the market...
And without having to worry whether your investments will actually "deliver"...
You must read our note on Blue Chip Stocks now.
Details of our SEBI Research Analyst registration are mentioned on our website - www.equitymaster.com
Disclaimer: This article is for information purposes only. It is not a stock recommendation and should not be treated as such. Learn more about our recommendation services here...
Yazad Pavri
Cool Dad, Biker Boy, Terrible Dancer, Financial writer
I am a Batman fan who also does some financial writing in that order. Traded in my first stock in my pre-teen years, got an IIM tag if that matters, spent 15 years running my own NBFC and now here I am... Writing is my passion. Also, other than writing, I'm completely unemployable!