The Stock Market is Recovering. Here's What You Should Do...
Jun 5, 2022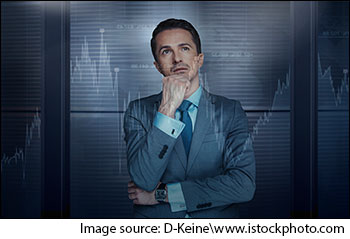 Bulls marked a comeback of some sort on Dalal Street in the week gone by.
The gains were however trimmed on the last trading day, Friday, when benchmarks erased over 1% gains.
Benchmark indices staged a gap-up opening on Friday but were pulled down by banking, finance, auto, and power stocks during the last hour of trade.
Negative US stock futures also dampened sentiment.
On a weekly basis, the BSE Sensex and the NSE Nifty gained around 2% each.
Broader markets performed in line with BSE Midcap and BSE Smallcap index gaining in the range of 1-3%.
It seems the stock market is recovering, and the volatility has eased.
But remember that the market will always remain impatient. The aftermath of Russia Ukraine war is still seen in some form.
US Fed's decision on interest rates, inflationary concerns, all are looming.
Any one of these or something else can hit the markets, or it could be a combination of factors.
On that cautious note, let's take a look at the major developments which happened in the week gone by.
Top Gainers and Losers
With volatility easing, several Indian stocks have delivered multibagger returns in quick time.
In the week gone by, shares of Timken India gained the most from the BSE 500 index. The reason behind this is nothing but good quarterly results.
In its Q4 results, the company reported good numbers with profit after tax (PAT) more-than-doubling to Rs 121.3 m on the back of healthy operational performance.
Macrotech Developers, Fine Organics and Century Textiles were among the other big gainers which rose over 20%.
Coming to losers...
Hikal stood out as the top losers this week, losing 23%. Again, the reason here is result specific.
On Friday, shares of Hikal hit a fresh 52-week low. The company is on a downtrend ever since it reported a weak set of earnings.
Hikal's consolidated PAT declined 59% during the quarter under review due to higher operational cost and lower revenue.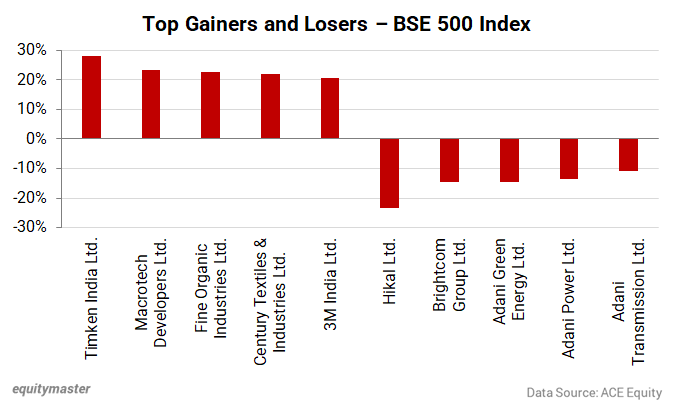 As can be seen, two of the Adani group stocks turned out to be the biggest losers. To know more, check out our editorial on why Adani Transmission share price is falling.
Also check out the 5 growth sectors Adani group is investing in.
Sectoral Performance
Coming to sectoral performance, realty stocks and energy stocks stood out as top gainers last week. Both these sectors were beaten down in the last few weeks and this week they saw a rebound.
Energy sector stocks will continue to remain in focus as crude oil prices continue to creep higher amid increased demand and constrained supply.
Moving on to losers...
Power stocks fell the most with the BSE Power index and the BSE Utilities index both falling 4%.
Adani Power and Adani Transmission both involved in the power space, dragged the whole lot of stocks lower.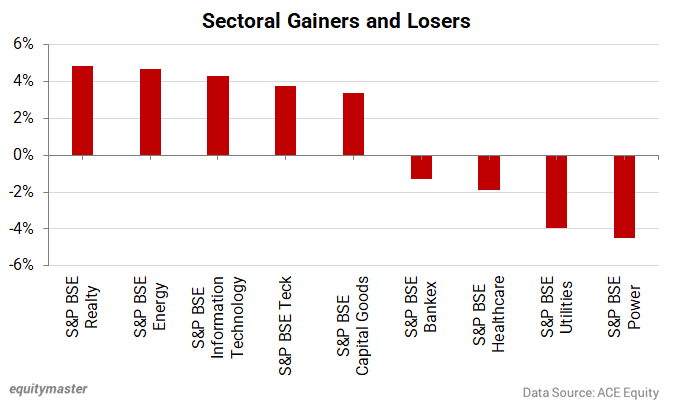 Which companies reported the best results?
The week gone by saw many companies declaring their March quarter results. Out of the lot, here are the companies which reported the best Q4 results.
Best Results Reported this Week

FII & DII Activity
FIIs remained net sellers for most of the week while DIIs were cleaning up the mess as usual.
Indian mutual funds or DIIs continued to load up on beaten down and quality stocks and eased the pressure witnessed from FII selling.
FII Activity
| Date | Net Inflows/Outflows (Rs bn) |
| --- | --- |
| 27-May-22 | -5.6 |
| 30-May-22 | -31.4 |
| 31-May-22 | 22.8 |
| 01-Jun-22 | -9.9 |
| 02-Jun-22 | -7.2 |
Data Source: Economic Times
It's interesting to note that FIIs seem to be exhausted with the selling now. For many months now, FIIs have been selling Indian stocks which has turned out a BIG hurdle for the markets.
Analysts are of the view that there are signs of exhaustion when it comes to FII selling. In the early days of June, the selling has been in very small amounts.
Key Events Next Week
In the coming week, inflation will be the talk of the town. That's because US and China's inflation statistics will be released.
An important test waits for US markets and possibly for the markets across the globe when consumer price data offers insight on how much more the Federal Reserve will need to do in its battle against the worst inflation in decades.
In India, market participants will be keenly watching the RBI's monetary policy. The outcome of the RBI meeting will give cues on what bps rate hike investors should expect further.
What to Expect Going Forward?
With interest rates and inflationary concerns still terrible, Indian share markets are likely to witness volatility in the near term.
Going forward, market participants will closely track the trajectory of active Covid cases as the numbers have started to show a spike.
Just as everyone was getting comfortable with the idea of a new normal, yet another Covid concern threatens to bring things to grinding halt.
With Q4 earnings season almost over, market participants will focus on management commentary of companies and their growth plans.
They will also track the movement of rupee. The rupee has been depreciating lately owing to FII outflows.
What should you do, dear reader, in this situation? What should be your course of action?
Here are some points you should keep in mind in this market...
If you have found a great stock with rock-solid fundamentals and it has fallen to a reasonable level, then it's time to put in some money. Take a partial exposure. You can invest more if the market keeps falling.
If you're holding on to stocks with poor or questionable fundamentals...SELL. They're not worth holding on to.
If you have high quality stocks in your portfolio, you can hold on to them. Keep a close watch on their fundamentals.
If you're a trader, it may be a good idea to sit out this volatility.
Don't worry about the bulls and bears. If you're convinced about a stock after doing your due diligence, you'll have a good night's sleep.
Happy Investing.
Disclaimer: This article is for information purposes only. It is not a stock recommendation and should not be treated as such. Learn more about our recommendation services here...
Yash Vora is a financial writer with the Microcap Millionaires team at Equitymaster. He has followed the stock markets right from his early college days. So, Yash has a keen eye for the big market movers. His clear and crisp writeups offer sharp insights on market moving stocks, fund flows, economic data and IPOs. When not looking at stocks, Yash loves a game of table tennis or chess.