Oct 1, 2021 - Top Performing PSU Stocks over the Past One Year
Top Performing PSU Stocks over the Past One Year
Oct 1, 2021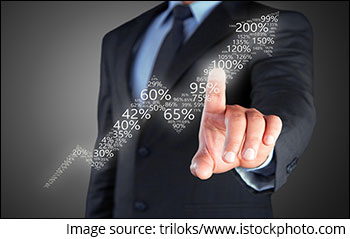 Public sector undertaking (PSU) stocks are often considered to be value destroyers in the long run.
Don't be surprised if you come across government-owned companies which go on to underperform for years or decades, even in a bull market.
Even as some PSUs have decent sound fundamentals, investors give them the last preference as they think there are better opportunities elsewhere.
But the time has changed now. After a decade of underperformance, PSU stocks are turning tables.
From the BSE PSU index, only two stocks are trading in the red if the past year's performance is considered - Mishra Dhatun and Garden Reach Shipbuilders.
All others are trading in green, with many comfortably sitting on huge gains.
Let's have a look at the top performing PSU stocks in the past one year.
#1 SAIL
Shares of SAIL have soared on the back of rising steel prices.
As the largest producer of steel in the country, the company was the beneficiary of soaring steel prices, robust demand by various sectors, and the government's focus on infrastructure.
As a result, the company recorded its best-ever performance in both production and sales during the financial year 2021.
It also deleveraged its balance sheet. In line with its focus on reducing borrowings, the SAIL reduced its net debt from Rs 161.3 bn in 2020 to Rs 153.5 bn in 2021.
SAIL share price has rallied 237% over the last 12 months.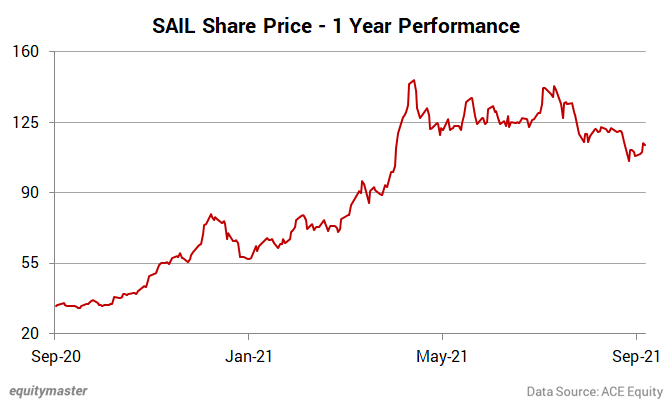 Shares of the company came under pressure last week, thanks to profit booking after a sharp run-up.
SAIL held its AGM last week where it mentioned the company is ready to expand further with its improved leverage position.
Latest developments also suggest that SAIL is likely to feature on the initial list of firms for privatisation.
The government holds 65% stake in SAIL, which is worth around Rs 296 bn.
To know more, check out SAIL's latest shareholding pattern.
#2 Hindustan Copper
Hindustan Copper is the second on this list, riding the metals rally on the back of buoyant copper prices.
It's the only vertically integrated copper producer in India engaged in a wide spectrum of activities ranging from mining, beneficiation, smelting, and refining.
Shares of the company have rallied on the back of rising copper prices. In March 2021, copper prices were on an upswing in international markets on the back of resumption of industrial activity after lockdowns were eased.
They surged to multi-year peaks back then.
But lately, copper prices are on a downtrend, which has affected Hindustan Copper shares. In May 2021, Hindustan Copper shares touched a peak of Rs 197. Currently, they trade at Rs 110 odd levels.
The fall is attributed to slipping Chinese demand and fears of monetary policy tightening.
But even after this fall, Hindustan Copper shares are up 231% in the past one year.
The government recently came out with an offer for sale (OFS) in Hindustan Copper to sell 10% stake.
As of June 2021, the government held 72.76% stake in Hindustan Copper, which will come down after the OFS.
#3 Oil India
Shares of Oil India are on a tear, gaining as much as 40% in a single month.
The stock is in radar as market is expecting the company to benefit from its recent acquisition of Numaligarh Refinery (NRL) in the form of embedded excise duty reimbursement and capacity expansion in the medium term.
NRL became a subsidiary of Oil India after it acquired a stake from BPCL back in April 2021.
An uptick in production has also supported the stock.
In the June 2021 quarter, the company's gas production rose by 8.3% sequentially to 7.8 m standard cubic meters per day. This is the highest in any of the quarters in the past two years.
Further, recovery in crude oil and natural gas prices gave more support to Oil India.
All these reasons combined together have led to Oil India gaining 190% in the past one year.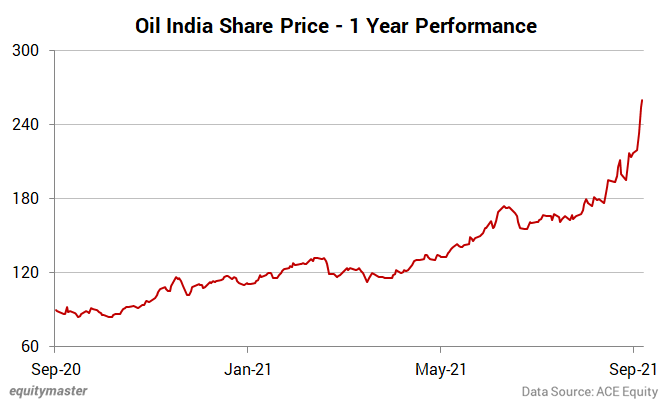 On top of all these reasons, another positive news for Oil India is the government's latest move to raise gas prices.
APM gas prices increased starting today because of the surge in global gas prices. This is a positive for gas producers like Oil India.
As of June 2021, promoters, i.e. the government held 56.7% stake in the company, while FIIs held 8.5%.
To know more, the Oil India company fact sheet and quarterly results.
#4 National Aluminum (NALCO)
National Aluminum (NALCO) share price has gained on similar lines as Oil India. It's up 190% in the past one year.
NALCO is a pure aluminum play and has the highest leverage to aluminium prices. As aluminium prices started to climb March 2020 onwards, the stock began to rally.
An increase in price of alumina, a raw material used to produce aluminium, also supports NALCO as it also sells alumina.
The company doubles it earnings on every US$400 a tonne increase in aluminium price.
Earlier this month, shares of the company surged to 10-year highs due to a military coup and political unrest in Guinea, a major supplier of bauxite.
The political instability in the African nation has fueled supply concerns for the raw material used in production of the metal, which could hike aluminium prices, which will in turn benefit NALCO.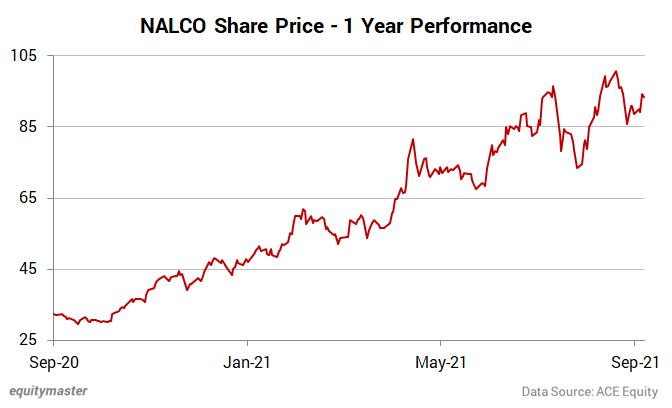 This month, the company announced a final dividend of Rs 1 per share, in addition to the 1st and 2nd interim dividend of Rs 2.50 per share.
To know more, check out NALCO dividend payout history.
#5 MMTC
Next on the list is MMTC, which has gained 177% between September 2020 and September 2021.
MMTC is mainly engaged in export of minerals and import of precious metals, non-ferrous metals, fertilisers, coal, and hydrocarbons.
First things first. MMTC has not declared its latest fiscal or quarterly results.
Why? It's because the government approved the disinvestment of MMTC in Neelanchal Ispat Nigam (NINL).
MMTC had requested the stock exchanges to extend the time limit for filing results because it has a huge exposure in NINL, which would have bearing on the accounts of MMTC. So MMTC is still a loss making company.
So why are MMTC shares on a roll?
One reason can be because digital gold seems to be catching investors' fancy and sales are increasing. The year on year (YoY) demand for digital gold has gone up by nearly 70%.
And this has an effect on companies like MMTC-PAMP.
MMTC-PAMP has, in India, among the world's most advanced gold and silver refining and minting facilities.
The company is set up as a JV between MMTC and Switzerland's PAMP SA, the world's leading bullion brand.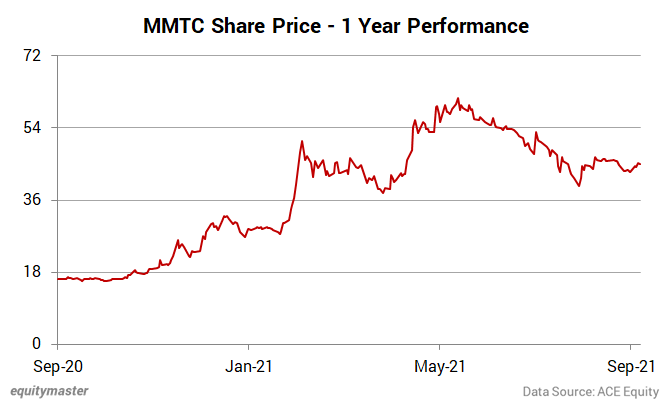 Individual investors hold just 6.03% shares of the total equity of MMTC as of June 2021. To know who holds the largest chunk, check out MMTC's latest shareholding pattern.
#6 IRCTC
The stock of travel support services company IRCTC has defied gravity and has been on a continuous upmove since listing in October 2019.
Against its IPO issue price, IRCTC share price has multiplied shareholders' wealth more than 12 times, from Rs 320 per share to Rs 3,790 per share in around 2 years!
In the past one year, IRCTC shares are up 174%.
What has supported the stock? Well, there are several reasons.
First IRCTC enjoys a monopoly. It's the only entity authorised by the Indian Railways to provide catering services to railways, online railway tickets, and packaged drinking water at railway stations and trains in India.
Second, IRCTC recently ventured into the international and domestic cruise business, targeting the domestic market including potential outbound guests. It has signed an agreement with Cordelia Cruises for the same.
With this move, IRCTC plans to become a one-stop solution player for travel and tourism.
Third, the Rs 1.52 lakh crore Indian Railways' asset monetisation plan was laid out in the National Monetisation Plan (NMP). Already benefitting from the unlock activities, this announcement is like a cherry on the top of a sundae for IRCTC.
Since there will be monetisation of passenger trains, IRCTC is expected to emerge as major beneficiary.
The company is also undergoing a stock-split, record date for which is 29 October 2021.
Put all these factors together and it will explain why the stock is flying high.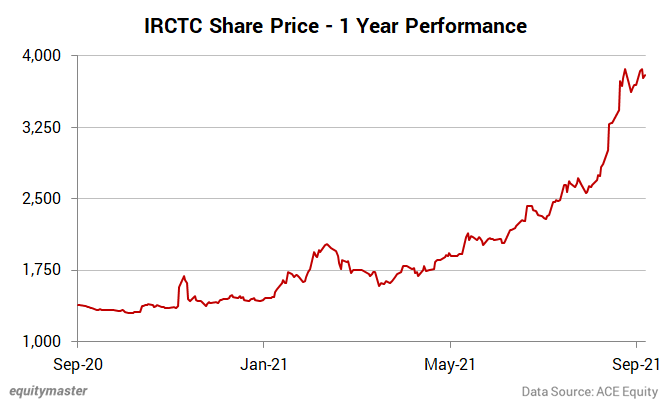 The stock now trades at a PE multiple of more than 200, and price to book value of 40!
As of June 2021, IRCTC's promoters - the Indian government - holds 67.40% stake in the company.
Which other PSUs have seen a sharp run-up in the past 12 months?
Apart from these, here are other PSUs which have given multibagger returns in the past one year.
Source: Equitymaster
Performance over the years...
Speaking of PSUs, have a look at the chart below which shows the performance of BSE PSU index compared to BSE Sensex over the past few years.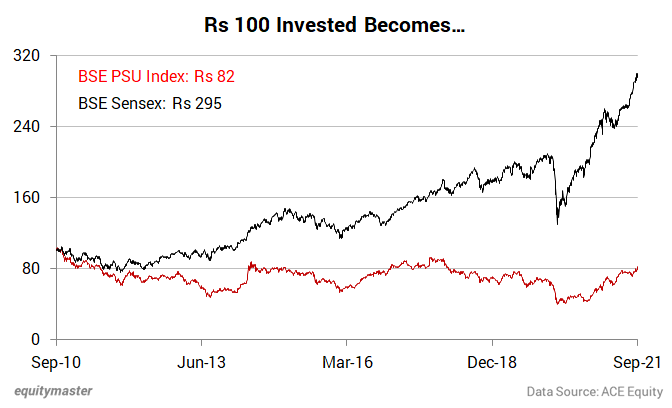 As can be seen from the chart above, over the last decade, Rs 100 invested in BSE PSU index would have eroded to Rs 80, compared to almost 3x gains for the Sensex.
Here's what Richa Agarwal, lead Smallcap Analyst at Equitymaster, wrote about PSU stocks in one of the edition of Profit Hunter...
However, it will be folly to paint all PSUs with the same brush. There are some exceptions in this space, which put their private peers to shame.

In a recent editorial, I shared an opportunity in a PSU stock that is riding and enabling an irreversible megatrend - digitisation.
One of Richa's stock recommendation is a PSU stock. This smallcap PSU is leading the digitisation drive from the frontlines.
Richa believes it could be a perfect bet for these uncertain times. Hidden Treasure subscribers can read the recommendation here.
And if you're not a subscriber, here's where you can sign up.
To know what's moving the Indian stock markets today, check out the most recent share market updates here.
Disclaimer: This article is for information purposes only. It is not a stock recommendation and should not be treated as such. Learn more about our recommendation services here...
Yash Vora is a financial writer with the Microcap Millionaires team at Equitymaster. He has followed the stock markets right from his early college days. So, Yash has a keen eye for the big market movers. His clear and crisp writeups offer sharp insights on market moving stocks, fund flows, economic data and IPOs. When not looking at stocks, Yash loves a game of table tennis or chess.