Indian Stock Market News March 13, 2018
Sensex Ends Day in Red; TCS Plunges 5%
After opening the day in green, share markets in India traded flat throughout the day and ended the day on a negative note. Sectoral indices were mixed, with stocks in the telecom sector and stocks in the IT sector, leading the losses.
At the closing bell, the BSE Sensex stood lower by 61 points (down 0.2%) and the NSE Nifty closed up by 5 points (up 0.1%). The BSE Mid Cap index ended the day up 1%, while the BSE Small Cap index ended the day up by 1.1%.
Asian stock markets finished mixed. As of the most recent closing prices, the Hang Seng was flat and the Shanghai Composite was down by 0.5%. The Nikkei 225 was up by 0.7%. Meanwhile, European markets, were trading on a positive note. The FTSE 100 was up by 0.1%, The DAX, was up by 0.2% while the CAC 40 was up by 0.4%.
The rupee was trading at Rs 64.86 against the US$ in the afternoon session. Oil prices were trading at US$ 65.09 at the time of writing.
In news from stocks in the banking sector, HDFC share price was in focus today after the lender said that it will sell over 4% stake in its asset management arm HDFC Asset Management Co. Ltd (HDFC AMC) through an initial public offer (IPO).
The mortgage lender said that the committee of directors set up by the HDFC board has approved offering up to 8,592,970 equity shares of HDFC AMC at Rs 5 each, representing 4.08% of the paid-up share capital, for sale in the IPO.
--- Advertisement ---


'We Are At The Beginning Of A 30% Market Crash'

Research analyst Tanushree Banerjee, recently predicted that we are at the brink of a steep 30% market crash.

And while everyone else in the market is panicking...

She remains calm.

Why?

Because she has used her 13 years of experience to identify 5 Super Safe Stocks that have the potential to not only survive, but thrive in these conditions.

And today is your chance to get access to these stocks.

Click here for full details...
------------------------------
Last November, HDFC had approved the IPO of HDFC AMC. The HDFC board had approved to offer part of its shares held in HDFC AMC to the public in one or more tranches so that its holding remains at least 50.01% in the AMC arm.
HDFC's partner, Standard Life too is expected to dilute its stake, bringing a total stake dilution through the IPO to 12%.
According to news reports, the offer document will be filed in the next couple of days, and the IPO is expected to take place in May-June after approval from the regulator comes through.
The IPO listing would make HDFC AMC the second AMC to list in India after Reliance Nippon Life made its debut in early November.
HDFC said HDFC AMC will continue to be its subsidiary post-IPO.
HDFC share price ended the day up by 0.5%.
Speaking of IPOs, if you've been tracking the demand for IPOs, you would certainly think that 2017 is the year of IPOs. For one, IPO subscriptions were at sky high levels. But if the performance of recently listed IPOs are anything to go by, they have flattered to deceive.
Poor IPO Returns Post Listing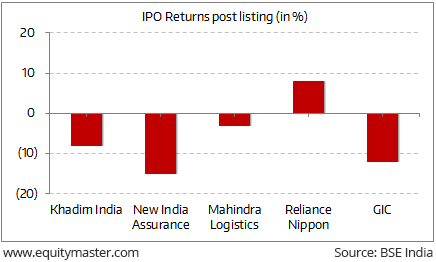 Of the five recent high-profile IPOs which listed on the stock market, four have given negative returns as of yesterday's closing price.
The IPO activity in FY17 is mainly driven by Offer for Sale (OFS) rather than fresh issues. An OFS is a route through which existing promoters and private equity investors offload their stake. Here, the money from the sale goes to the selling shareholder. Whereas, in a fresh issue, the money raised goes to the company who, normally, utilizes this money to repay debt, for capital expenditure, etc.
Also, the number of Private Equity (PE) investors exiting these companies raised a red flag. These PE investors had bought a stake in the IPO recently at a fraction of the listed price. Sensing the frenzy, they were able to offload their stake with multifold returns.
The only person left high-and-dry here was the retail investor. And, this is not a recent occurrence. The IPO euphoria is something similar to what was seen in 2007-08. More than 70% of the IPOs listed in 2007 and 2008 were in the red, even today when the Sensex is at an all-time high.
But it doesn't make sense to completely ignore this space. The IPO space has also given us names like Maruti, TCS, and Jubilant Foodworks Ltd (with returns over 4,000%, 1,000% and 500% respectively) that have created immense wealth for shareholders.
For the retail investor, it is very important to ignore the noise and focus on the fundamental and valuations on the table. And more often than not, this approach works much better than following the herd.
Moving on to news from stocks in the IT sector. Tata Consultancy Services (TCS) share price was among the top losers on the bourses today after its parent, Tata Sons sold a 1.48% stake in it, to raise Rs 81.2 billion (US$ 1.3 billion) as it looks to retire debt and invest in group firms across sectors such as auto and steel.
Further, TCS witnessed a series of block deals, in which around 25.4 million shares or 1.5% stake of the company changed hands. After the block deal, Tata Sons will hold about 73% in TCS, which generated US$18 billion in revenues in fiscal 2017.
Our team of Equitymaster analysts have been working on a project to track the smartest minds in value investing. They have compiled a special report on them, called The Superinvestors of India.
Now, because of insights from these interactions, the team has glued their eyes on insider activity and bulk and block deals...
As per them...
TCS share price ended the day down by 5.2%.
And here's a note from Profit Hunter:
Tata sons is selling 1.5% stake in TCS worth nearly US$1.3 billion (Rs 85 billion) through the stock exchanges between 13-15 March. This resulted in the stock's decline today by -5.40%, making it the Nifty 50 index's worst loser.
The last time we reviewed the stock, it had touched a new life-time high of 3,135 after rallying 25% in just one month. The rally was quite steep and that was the reason we expected a correction. The stock continued the upside momentum for two more sessions to touch a new life high of 3,259.
But it corrected, and today it is nearly 12% down from this high.
The stock is now approaching its support level of 2,780 which was previously a strong resistance.
So will the stock find support at this level or will it continue to correct? Let's keep a track of it.
TCS Plunged 5% for the Day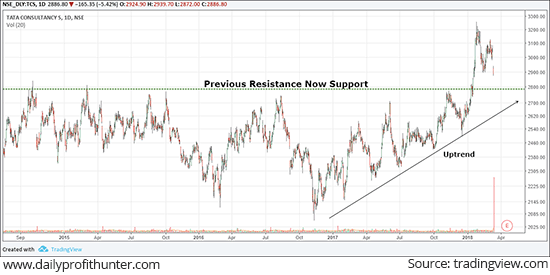 For information on how to pick stocks that have the potential to deliver big returns,
Read the latest Market Commentary
Stock Market Updates
Feb 22, 2019 Closing
Indian share markets end the day on a flat note with the BSE Sensex down by 27 points, while the NSE Nifty closed up by 2 points.
Feb 22, 2019 03:55 PM
Here's a list of most active small-cap stocks today. It also includes information on BSE Smallcap index and the broader benchmark indices.
Feb 22, 2019 03:55 PM
Here's a list of 5 stocks that gained the most in the BSE Mid-Cap Index today. It also includes information on BSE Mid-Cap index and the broader benchmark indices.
Feb 22, 2019 03:32 PM
AIA ENGINEERING share price has surged by 5% and its current market price is Rs 1,730. The BSE CAPITAL GOODS is up by 0.3%. The top gainers in the BSE CAPITAL GOODS Index are AIA ENGINEERING (up 5.3%) and SUZLON ENERGY (up 34.8%). The top losers are LAKSHMI MACHINE and ABB INDIA LTD. (down 0.1%).
Feb 22, 2019 03:28 PM
FDC LTD. share price has surged by 5% and its current market price is Rs 157. The BSE HEALTHCARE is up by 0.6%. The top gainers in the BSE HEALTHCARE Index are FDC LTD. (up 5.0%) and BLISS GVS PHARMA (up 5.2%). The top losers are TORRENT PHARMA and FORTIS HEALTHCARE (down 0.2%).
Feb 22, 2019 03:18 PM
HOUSING DEV. INFRA share price has surged by 6% and its current market price is Rs 24. The BSE REALTY is up by 1.3%. The top gainers in the BSE REALTY Index is HOUSING DEV. INFRA (up 5.8%). The top losers is SOBHA LIMITED (down 0.3%).
View More Indian Share Market News
Most Popular
Feb 13, 2019
The real estate sector is ready to make a comeback. This is the stock to consider buying.
Feb 14, 2019
During this tough period in the market, a contrarian approach holds huge potential upside for this Smart Money Secrets stock.
Feb 14, 2019
Don't let the dark clouds hovering over small caps scare you into hiding; it will rain gold as sentiments recover. Indeed, there is a blood bath. And if you are a first time investor, the correction is deep enough to scare you out of markets.
Feb 12, 2019
Two questions I have been eagerly waiting to ask you ever since Budget 2019 was announced.
Feb 15, 2019
Why its great news that prices for small caps over the last few days have been falling like there's no tomorrow.
More