Indian Stock Market News September 23, 2019
Markets will remain closed on 21st October 2019, due to Assembly Elections in Maharashtra.
Indian Indices Extend Rally; Sensex Zooms 1,250 Points
Share markets in India are presently trading on a strong note, cheering the government's move to cut corporate tax rates to boost economic growth. Benchmark indices added to gains from Friday as brokerages upgraded Indian equities and raised target prices and earning per shares.
Finance Minister Nirmala Sitharaman said that the government's move on corporate tax has sent a positive message "not just in India" but around the globe.
The BSE Sensex is trading up by 1,264 points, up 3.2%, while the NSE Nifty is trading up by 369 points. The BSE Mid Cap index is trading up by 3.2%, while the BSE Small Cap index is trading up by 2.5%.
--- Advertisement ---
[Only For Indian Citizens] India is Set to Regain Its Lost Riches

India was the world's richest country nearly 2,000 years ago.

And if you are like us who believe that India is on track to regain its status as one among the greatest countries on earth…

Then, we encourage you to join other true Indians in the first-ever mega summit "REBIRTH OF INDIA" for FREE.

Click Here to Claim Your FREE Pass for this MEGA Summit…
------------------------------
Shares of L&T and Asian Paints jumped 9%, while IndusInd Bank, ICICI Bank, and ITC surged 5-7%.
On the sectoral front, gains are largely seen in the capital goods sector, FMCG sector, and banking sector.
In news from the banking sector, State Bank of India (SBI) said it will use the repo rate as the external benchmark for its floating rate loans for MSME, housing and retail loans. As per the press release issued by the lender, this will come into effect from October 1.
As per an article in The Economic Times, this decision comes after the Reserve Bank of India (RBI) mandated all banks to link their floating rate loans to an external benchmark.
Here's an excerpt from the article:
However, SBI, in a response to a user query, said on its official Twitter handle last week that it had withdrawn its repo linked loan scheme. "Kindly note that RLLR based home loan scheme have been withdrawn. You can get the home loan migrated to MCLR based home loan."
RBI in its notification dated September 4, asked all the banks to offer their loans with interest rates linked to an external benchmark. SBI was the first bank to offer repo rate linked home loans from July 1, 2019.
--- Advertisement ---
The 'Profit Accelerator' That Helped Wipro Multiply 2,000 Times Since 1991

Do you know what a 'profit accelerator' is?

It is one of 3 traits that the most profitable stocks have…

For instance, back in 1991 Wipro underwent a huge transformation…

This was the 'profit accelerator' the company needed.

Over the next 3 decades, the stock price of Wipro multiplied over 2,000 times.

Amazing, isn't it?

If you're wondering what exactly a 'profit accelerator' is, you'll find a full explanation of that and the other 2 traits that make a 100X potential stock, in this note.
------------------------------
SBI share price is presently trading up by 2.8%.
In other news, the RBI may cut the benchmark rate by up to a quarter percentage point in October against an anticipated 25-40 basis points after FM Nirmala Sitharaman announced a host of fiscal measures last week.
A survey of 25 market players by The Economic Times said that the need for aggressive rate cuts by the RBI, like in the August meeting when it slashed repo rate by 35 bps has receded after the government's move.
India's GDP growth slowed for the fifth straight quarter to 5% during April-June, its slowest pace of expansion in 25 quarters. Credit has also dried up as risk-averse lenders stay away from fresh lending.
Last week, RBI governor Shaktikanta Das had hinted at more rate cuts, citing the sluggish economy. The central bank has cut the repo by 110 basis points in the past four consecutive polices.
How this all pans out remains to be seen. Meanwhile, we will keep you updated on the latest developments from this space.
Moving on to news from the pharma sector, Biocon share price is in focus today. Shares of the company fell more than 1% in early trade today after the company received eight observations from the US Food and Drug Administration (USFDA).
The USFDA conducted a pre-approval inspection at two of company's new Biologics Manufacturing facilities in Bengaluru from September 10 to September 19, 2019. The inspection included a new drug substance and a drug product (DP) unit.
At the conclusion of the inspection, Biocon received a Form 483 with four observations for the new OS facility, three observations for the new DP facility and one general observation.
Meanwhile, Dr Reddy's Laboratories on Sunday said that it is suspending supply of its drug Ranitidine worldwide as a precautionary measure. Shares of the company fell 4% today on back of the above news.
Reportedly, the suspension comes following the ongoing probe by the USFDA into the reported impurity N-nitroso dimethylamine in it at low levels.
Ranitidine is an over the counter and prescription drug which decreases the amount of acid created by the stomach.
On 13 September, the USFDA had said it is working with international regulators and industry partners to determine the source of this impurity in Ranitidine being manufactured by several companies RPT being manufactured by several companies and examining levels of NDMA in Ranitidine and evaluating any possible risk to patients.
The US drug regulator also said that it is not calling for individuals to stop taking Ranitidine at this time, however, patients taking the prescription and wishing to discontinue its use should talk to their health care professionals about other treatment options.
Dr Reddy's share price is presently trading down by 3%.
Here's an interesting data on Dr. Reddy's Lab, investing just Rs 100,000 in Dr. Reddy's Labs in 1992, it would have given a whopping Rs 4.89 crores in 2014!
Profit Opportunities in the Rebirth of India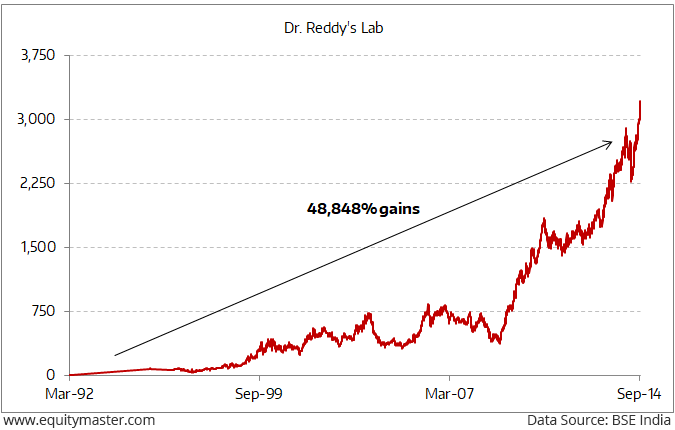 Co-head of Research, Tanushree Banerjee believes, the opportunities in the Rebirth of India are not only more profitable than the ones in 1991 but the gains could come faster too.
Tanushree has explained this historic opportunity in detail at the Rebirth of India summit.
To know what's moving the Indian stock markets today, check out the most recent share market updates here.
For information on how to pick stocks that have the potential to deliver big returns,
Read the latest Market Commentary
Stock Market Updates
Oct 18, 2019 Closing
Indian share markets end on a positive note with the Sensex up by 246 points, while the Nifty closed up by 76 points.
Oct 18, 2019 03:34 PM
SIEMENS share price has hit an all time high at Rs 1,656 (up 1.6%). The BSE CAPITAL GOODS Index is up by 2.2%. Among the top gainers in the BSE CAPITAL GOODS Index today are SIEMENS (up 1.6%) and HONEYWELL AUTOMATION (up 0.8%). The top losers include LAKSHMI MACHINE (down 0.6%).
Oct 18, 2019 03:32 PM
BLISS GVS PHARMA share price has surged by 13% and its current market price is Rs 136. The BSE 500 is up by 0.9%. The top gainers in the BSE 500 Index are BLISS GVS PHARMA (up 13.1%) and PNB HOUSING FINANCE LTD (up 18.6%). The top losers are SHOPPERS STOP (down 0.1%) and NAVNEET EDUCATION (down 0.1%).
Oct 18, 2019 03:30 PM
TVS MOTORS share price has surged by 5% and its current market price is Rs 460. The BSE AUTO is up by 1.0%. The top gainers in the BSE AUTO Index are TVS MOTORS (up 5.1%) and BALKRISHNA INDUSTRIES (up 5.5%). The top losers are M&M (down 0.2%) and BAJAJ AUTO (down 0.4%).
Oct 18, 2019 03:27 PM
PRESTIGE ESTATES share price has surged by 5% and its current market price is Rs 302. The BSE REALTY is up by 2.0%. The top gainers in the BSE REALTY Index are PRESTIGE ESTATES (up 5.4%) and OBEROI REALTY (up 5.7%). The top losers are MAHINDRA LIFESPACE (down 1.2%) and SOBHA LIMITED (down 1.2%).
Oct 18, 2019 03:26 PM
SHIPPING CORP. share price has surged by 10% and its current market price is Rs 47. The BSE 500 is up by 0.9%. The top gainers in the BSE 500 Index are SHIPPING CORP. (up 10.1%) and PNB HOUSING FINANCE LTD (up 17.2%). The top losers are SUN PHARMA and SHOPPERS STOP (down 0.1%).
View More Indian Share Market News
Most Popular
Oct 14, 2019
This is once in a decade opportunity to make a killing from smallcap rebound.
Oct 11, 2019
Discounts are not just limited to E-tailers. You can buy stocks at 50% off too. Here are two stocks to buy now.
Oct 18, 2019
Equitymaster's smallcap guru and editor of Hidden Treasure, Richa Agarwal, talks to us about the rebound in the stock market, and the best stocks to profit from it. Listen in...
Oct 10, 2019
There are rare periods in markets when you get good quality stocks at attractive valuations. Is this one such period?
Oct 11, 2019
Now is the time to put money in these 5 stocks to take advantage of the recovery in the economy and the markets.
More