GAIL Misses Earnings Estimates. Company Ditches Plan to Split
Jun 10, 2021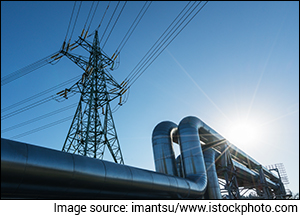 Stock of state-owned GAIL (India) is in focus today after the company declared its March quarter results.
Shares of the company had slipped 3.3% yesterday after the company missed profit estimates for the January-March quarter.
The company reported a quarterly profit of Rs 19.1 bn, which was down from Rs 30.2 bn reported in the same period last year.
Revenue stood at Rs 155.5 bn, while EBITDA (earnings with interest, taxes, depreciation, and amortisation) was Rs 24.7 bn.
However, on a sequential basis, net profit of the gas distributor rose 28% owing to higher other income and a fall in expenses.
Here's a table comparing GAIL's quarterly performance on key parameters.
Financial Performance
| (Rs bn) | Mar-21 | Mar-20 | Dec-20 | YoY (%) | QoQ (%) |
| --- | --- | --- | --- | --- | --- |
| Revenues | 155.5 | 177.6 | 154.6 | -12.4% | 0.6% |
| Total Expenses | 135.1 | 157.1 | 140.6 | -14.0% | -3.9% |
| Profit after tax | 19.1 | 30.2 | 14.9 | -36.8% | 28.2% |
Data Source: Company Filings
For the full financial year 2020-21, GAIL clocked a net profit of Rs 48.9 bn. This was significantly below the Rs 66.2 bn profit in financial year 2019-20.
Revenues for full fiscal year stood at Rs 567.4 bn compared to Rs 732.9 bn.
--- Advertisement ---
3 Hidden Forces are Converging for the First Time Ever...

This convergence is going to unleash a once-in-a-generation wealth boom.

A wealth boom that could potentially mint countless new dollar millionaires as the stocks at the heart of this event return thousands of percent over the long term.

It's a story of ground-breaking consequences that cannot be ignored.

Our co-head of research, Tanushree Banerjee, is going to reveal all about this historic event on the evening of September 24.

Tanushree believes, those who invest in the companies at the heart of this event could turn a small stake into generational wealth.

Just head to this page to get more details about this historic event...
------------------------------
Segment revenues
The petrochemical business showed better performance with more than 100% capacity utilisation.
GAIL's petrochemicals marketing revenue rose 14.5%. Key polymer spreads, that rose to multi-quarter highs, supported the segment.
Natural gas revenues rose 0.7%, over the previous quarter. An increase in spot and crude-linked LNG prices aided its gas marketing segment.
Benchmark polyethylene and LPG prices rose 12% and 36%, respectively, over the previous quarter, while spot LNG prices jumped 22%.
India's gas consumption rose 0.2% sequentially to 158.9 m standard cubic meters per day in the reported period.
Its transmission services segment revenue declined 5%.
The company's Chairman and MD, Manoj Jain said that the operations of the plant and pipelines were stable, and no major shutdown took place in the financial year 2020-21.
During the year, company's capex was Rs 69.8 bn mainly on pipelines.
Split plan scrapped
A proposal to bifurcate the company has been scrapped for now, and instead the company will monetise some of its pipelines by selling a minority stake through InvIT.
Earlier, the company had proposed split of its pipeline business from gas marketing business.
This was because many of GAIL's natural gas customers complained of not getting a fair access to the company's pipeline network to transport the fuel.
--- Advertisement ---
SPECIAL REPORT REVEALS: Real Estate Success Secrets of India's Most Respected Traders...

• A Secret 33-Year-Old Pattern That Has Just Remerged to Practically Guarantee a Massive Bull Run in Real Estate Over the Coming Years!

• The #1 Trend You Need to Know Before Investing in Real Estate This Year (Even if You Deal with Traditional Real Estate Investing and Have Nothing to Do with Stocks, this is a MUST KNOW)

• INVESTING IN COMA: Why People Who Invested in Real Estate Before 2019 Didn't Make Any Money (and Why Now is The Right Time to Get Started)

Here's How to Grab a FREE COPY Today
------------------------------
GAIL is India's biggest natural gas marketing and trading firm and owns nearly three-fourths of the country's 17,126-km gas pipeline network.
Manoj Jain said,
We are initially monetising through InvIT. Proposals for InvIT for two pipelines have been sent to the ministry. Once it clears, we will start working on monetisation plan.
Successful buyback
During the quarter, the company bought back 69.8 m fully paid-up equity shares of Rs 10 each for Rs 10.5 bn (excluding taxes) at Rs 150 per equity share.
The settlement of all valid bids was completed on 19 March and the equity shares bought back were extinguished on 22 March.
The government wants public sector undertakings (PSUs) to either meet their targets for capital expenditure or reward shareholders in the form of a dividends or share buyback.
How the stock markets reacted to GAIL's earnings
GAIL (India) share price opened the day up by 0.4% today. It went on to extend gains and is presently trading up by 1.5%.
After declaring its results yesterday, the stock had fallen 3.3%.
REVEALED: Details of 3 "Super Smallcap" Stocks Nobody Tells You About...
The stock has a 52-week high quote of Rs 170 touched yesterday and a 52-week low quote of Rs 81 touched on 14 October 2020.
Over the past one year, GAIL shares have gained 60% and on a YTD basis, they are up 31%.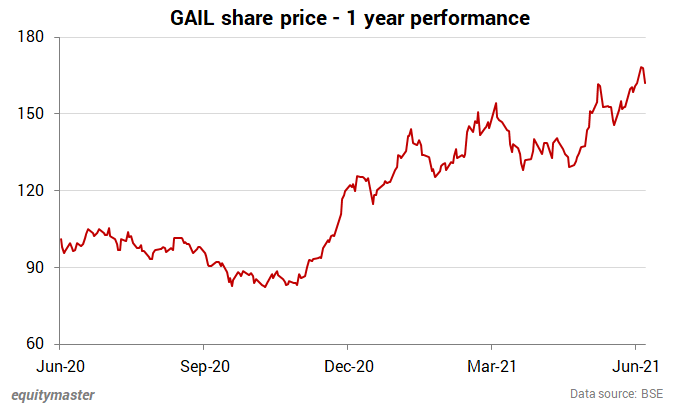 At the current price of Rs 164, the company commands a market-cap of Rs 728 bn.
The company trades at a PE of 12.4 and a price to book value of 1.50.
About GAIL (India)
Incorporated in 1984, GAIL (India) has evolved as an integrated natural gas company over the years, with a presence in transmission, gas processing, and downstream petrochemicals (which use natural gas as a primary input).
Apart from these businesses, GAIL also has interests in the Liquefied Natural Gas (LNG) business through Petronet LNG, Konkan LNG, and in city gas distribution projects both in India Mahanagar Gas, and Indraprastha Gas.
GAIL also has stakes in exploration and production of hydrocarbons.
It has wholly owned subsidiaries in Singapore and the US for expanding its presence outside India in the segments of LNG, petrochemical trading and shale gas assets.
For more details about the company, you can have a look at GAIL's factsheet and GAIL's quarterly results on our website.
For a sector overview, read our energy sector report.
You can also compare GAIL with its peers.
To know what's moving the Indian stock markets today, check out the most recent share market updates here.