Up 31,500% in a Year! This Packaging Company Sheds its Penny Stock Status
Oct 18, 2021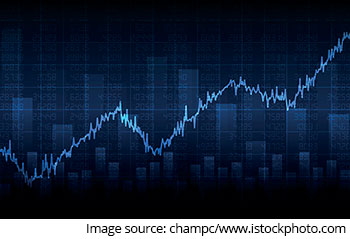 Last year in July, the stock of Ruchi Soya Industries was making headlines.
The stock was relisted on the bourses in January 2020 after Patanjali group acquired the bankrupt edible oil company.
It was relisted at Rs 17 and in just a matter of months, it skyrocketed to touch a high of Rs 1,535 on 29 June 2021 - a jump of 8,929%.
The rise in Ruchi Soya's stock price was mainly on account of the low level of free float.
The latest stock which shows eerie similarities and is yet to make headlines is Gopala Polyplast.
About the company
Originally incorporated in 1984 as a private limited company, Gopala Polyplast was listed on the Bombay Stock Exchange (BSE) in 1992-93 and reconstituted as a public limited company.
It manufactures polypropylene woven sacks, primarily used for cement packaging. The company also produces woven labels used for manufacturing garments. 90% of the revenues come from polypropylene woven sacks and fabrics division. It's production units are in Gandhinagar and Silvasa.
--- Advertisement ---
Click Here to Watch the Replay of the Great Indian Wealth Project Event

At our Great Indian Wealth Project special event, we gave away these valuable resources virtually FREE.

This bundle includes our comprehensive wealth creation guide titled- Eight Steps to Your Eight Figure Fortune

And 3 high-potential stocks covered in our latest special reports...

To immediately get you started towards accumulating Rs 7 crore in wealth over the long-term

If you missed this event for some reason, then you can watch the special replay of this event.

Click Here to Watch the Replay...
------------------------------
Due to financial crisis and default of bank debts and operational creditors, Gopala Polyplast went under corporate insolvency resolution process (CIRP) under the insolvency and bankruptcy code (IBC).
In August 2020, the NCLT, Ahmedabad passed an order approving resolution plan submitted by Plastene India.
The relentless rally
So, what has led to this unstoppable rally in Gopala Polyplast shares?
The logical reasoning behind this could be the low free float.
The company has a total of 10.23 m shares outstanding as of September 2021.
Out of this, 92.8% (nearly 9.5 m shares) of Gopala Polyplast are held by its promoters, leaving only 1.42% (1.4 lakh shares) to the public.
Out of these, only 10,000-15,000 shares are traded daily on an average, making it difficult for retail investors to buy in.
This has sent its stock soaring from just Rs 3 to Rs 1,167.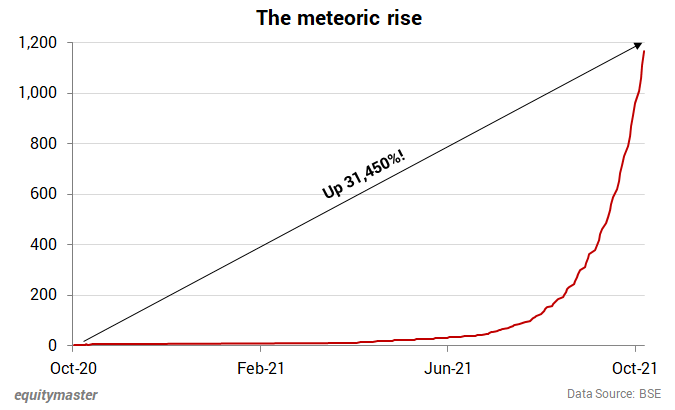 The stock has been in a never-ending rally due to scarce supply of shares, and people clamouring to buy whatever shares they can get their hands on.
But wait! Here's what you need to know...
Of course, you might be thinking to get your hands on this stock.
Before you do that, consider the fact that the firm has entered stage zero of the insolvency resolution process.
Watch Now: A Massive 15x Opportunity in Electric Vehicles
Also, the firm has been in the news for wrong reasons.
Last year in December 2020, CBI booked Gopala Polyplast in case of a bank fraud worth Rs 725.5 m.
The central agency registered a case against the company based on a complaint from Bank of Baroda alleging that accused directors of the firm-Manish Somani and Manoj Somani and Kishorilal Sonthalia-cheated the bank between 2017 and 2019.
Further, it was also alleged the continuous overdraft in the account and devolvement of LCs (letters of credit) resulted in the account becoming NPA (non-performing asset).
Bank of Baroda is a shareholder in the company, holding 5% or 5.1 lakh shares.
Are low free-float stocks good investment bet?
Often, buoyant sentiments completely cloud investors' judgement on the stocks they should buy. They blindly go with the hottest stocks.
There are no fixed reasons why the stock of Gopala Polyplast is seeing such a monstrous rally.
Some classic examples of stocks rallying because of low liquidity can be the sharp rally in Ruchi Soya shares and the most recent saga of Orchid Pharma.
--- Advertisement ---
REVEALED: How to Grow and Protect Your Wealth in 2022 and Beyond...

Interested in growing and protecting your wealth in the next decade?

Then Register for The Equitymaster Conference 2022 Right Now

Where the top investment minds of this generation will reveal their most lucrative money-making investment and wealth-protection strategies for the next decade.

Click Here to Get More Details...
------------------------------
In both these cases, the number of shares available to public shareholders was meagre, which lead to a rally of as much as 7,000% in a short span of time.
Another recent example can be of Gita Renewable Energy. Shares of the company skyrocketed 3,600% in the past 18 months, aided by a tiny free float of 1.1 m shares.
While low free float shares offer advantages, not all are worthy investment candidates. Holding on to such stocks could pose the risk of sharp wealth erosion.
As promoters hold a major chunk in these shares, they exercise control over the company and sometimes even manipulate stock prices.
Also, low-float shares fall at the same pace that they have risen.
Large free-float companies are more stable while the ones with smaller public exposure are volatile.
Shares with a higher float are usually the ones with better governance since the promoter has lesser influence and shareholders have more power to exercise their rights.
So before investing in such stocks, one must do their homework. Although low free float companies can be rewarding, they can be equally risky.
Happy Investing!
Disclaimer: This article is for information purposes only. It is not a stock recommendation and should not be treated as such. Learn more about our recommendation services here...