Indian Stock Market News July 12, 2019
Indian Indices Trade Rangebound; Sun Pharma & Tata Steel Top Gainers
Share markets in India are presently trading on a flat note ahead of June CPI inflation and factory data due later today.
Sectoral indices are trading mixed with stocks in the metal sector and realty sector witnessing buying interest while telecom stocks and capital goods stocks are witnessing selling pressure.
The BSE Sensex is trading down by 15 points, while the NSE Nifty is trading down by 2 points. The BSE Mid Cap index is trading up by 0.5% and the BSE Small Cap index is trading up by 0.4%.
The rupee is trading at Rs 68.56 against the US$.
Market participants are tracking Infosys share price, IndusInd Bank share price, and TRF share price as these companies are set to announce their Q1FY20 results later today.
In news from the textiles sector, KPR Mill share price is witnessing selling pressure today after the company withdrew its buyback proposal due to the tax proposed on buyback obligations in Budget 2019.
---

Advertisement

---

The Secret Behind the Mind Numbing Success of Wipro, MRF and Titan

Wipro, MRF, and Titan are all well-known Indian companies from very different sectors.

But there is something about these companies that makes them very similar as well…

And we are not talking about the fact that they made their investors very rich.

We are going one step back…

You see, these companies share THREE UNIQUE TRAITS that are the true reason behind their massive success.

The reason why they converted ordinary investors into Crorepatis.

And we believe that looking for these same three unique traits in companies could help identify the next Wipro or MRF or Titan.

We know even the thought of finding such a company is extremely exciting.

Now, what if we told you, that you could find details of one such company right now?

Yes, after years of research, we are ready to reveal details of a company that shares the same unique traits as Wipro, MRF and Titan…

Now we know you are very interested…

Just click here to read all about these unique traits and the stock…
------------------------------
Shares of the company dipped around 6% in early trade today on back of the above news.
On April 18, 2019, the company had proposed and approved buyback of 3.8 million equity shares, representing 5.2% of the total share capital, at a price of Rs 702 per share for a consideration not exceeding Rs 2633.1 million.
In a press release, the company said, "we have today filed with markets regulator our communication conveying that the increase in the amount of buyback obligation due to the tax proposal in the Finance Bill 2019 was neither contemplated nor prevailing at the time of the consideration and the approvals of the board and shareholders".
Ankit Shah, in his premium newsletter Insider, has explained how Union Budget 2019 spells bad news for buyback traders. You can read it here.
Last week, Finance Minister Nirmala Sitharaman proposed an additional tax of 20% in case of buyback with a view to discourage the practice of avoiding dividend distribution tax (DDT).
Note that the post-budget reaction saw a negative reaction from the market.
There was also debate around the tax for the super-rich which was increased. Also, for the market, buybacks will now be taxable which was also a surprise.
Before any for or against argument against the tax, it is important to understand how government earns its revenue.
Is this Budget A Step Towards India's March to the Rs 5 Trillion Mark?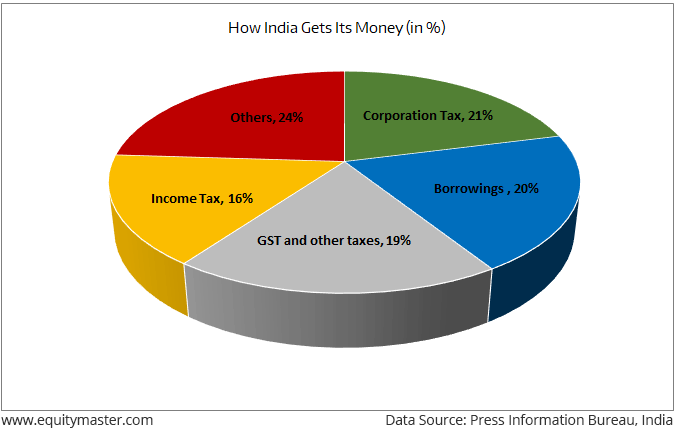 As can be seen in the chart above, corporate taxes contribute the major chunk to India's revenues. This is followed by borrowings and GST.
Non-tax revenues currently contribute to 9% of overall revenues. Non-tax revenues include dividends that the government receives from PSUs or any other divestment that it does.
Girish Shetty shares some of his thoughts on this topic in the recent edition of The 5 Minute WrapUp. Here's an excerpt from what he wrote...
Focus on economic growth will mean revenue from corporate taxes will be an automatic by-product.

The modi government has reduced corporate tax rates to 25% for firms with turnover up to Rs 4 billion.

We believe many such measures are needed for India to become a Rs 5 trillion economy in the next 5 years.
Moving on to news from the IT sector, Tech Mahindra has entered into a strategic partnership with Rackspace, which will enable cross-selling to company's customer base, joint product and services offerings, and improvements to Rackspace's internal business applications and processes.
With this partnership, Rackspace will execute a new go-to-market commercial model and benefit from improvements and efficiencies to the management of business applications and processes.
To know more about the company, you can read Tech Mahindra's 2018-19 Annual report analysis on our website.
Meanwhile, Quess Corp has received an approval to issue 7,54,437 equity shares of the company having a face value of Rs 10 per equity share to Amazon NV Investment Holdings LLC, a category III Foreign Portfolio Investor, for an aggregate amount of Rs 510 million at an issue price of Rs 676 by way of a preferential allotment.
The Board of the company in its meeting held today has approved the same.
In relation to the proposed investment in the company, the Board has also approved the execution by the company of the Share Subscription Agreement (SSA) for the proposed issue of equity shares on a preferential basis and the investment agreement with Amazon and Qdigi Services, a wholly owned subsidiary of the company.
Tech Mahindra share price and Quess Corp share price are presently trading up by 0.3% and 9.7%, respectively.
To know what's moving the Indian stock markets today, check out the most recent share market updates here.
For information on how to pick stocks that have the potential to deliver big returns,
Read the latest Market Commentary
Stock Market Updates
Jul 19, 2019 Closing
The BSE Sensex ended the day down by 560 points, while the NSE Nifty closed down by 177 points.
Jul 19, 2019 03:34 PM
TUBE INVESTMENTS OF INDIA LTD share price has plunged by 6% and its current market price is Rs 428. The BSE CAPITAL GOODS is down by 1.2%. The top gainers in the BSE CAPITAL GOODS Index are CG POWER & INDUSTRIAL (up 3.0%) and SUZLON ENERGY (up 2.3%). The top losers are TUBE INVESTMENTS OF INDIA LTD (down 5.7%) and HEG (down 9.4%).
Jul 19, 2019 03:34 PM
L&T FINANCE HOLDINGS share price has plunged by 6% and its current market price is Rs 118. The BSE 500 is down by 1.5%. The top gainers in the BSE 500 Index are KAVERI SEED (up 7.5%) and RELIANCE COMMUNICATIONS (up 4.7%). The top losers are L&T FINANCE HOLDINGS (down 5.5%) and HEG (down 9.4%).
Jul 19, 2019 03:34 PM
The BSE AUTO Index Down at 16,914 (down 3.1%). Among the top losers in the BSE AUTO Index today are EXIDE INDUSTRIES, MOTHERSON SUMI and M&M. Meanwhile, the BSE Sensex has plunged 1.3% to 39,059.
Jul 19, 2019 03:32 PM
The BSE BANKEX Index Down at 34,342 (down 2.0%). Among the top losers in the BSE BANKEX Index today are YES BANK, INDUSIND BANK and BANK OF BARODA. Meanwhile, the BSE Sensex has plunged 1.4% to 39,059.
Jul 19, 2019 03:32 PM
COFFEE DAY ENTER. share price has plunged by 5% and its current market price is Rs 215. The BSE 500 is down by 1.5%. The top gainers in the BSE 500 Index are KAVERI SEED (up 7.8%) and RELIANCE COMMUNICATIONS (up 4.7%). The top losers are COFFEE DAY ENTER. (down 5.4%) and HEG (down 9.4%).
View More Indian Share Market News
Most Popular
Jul 9, 2019
As the sense of normalcy returns to the markets, the rebound in the quality smallcaps could be huge.
Jul 12, 2019
Despite the current fear prevailing in the markets, both these stocks have the potential to deliver in 4-5 years.
Jul 8, 2019
A new 'definition' of the stock universe that triggered the smallcap sell-off is back with the latest list...
Jul 15, 2019
While big auto makers are finding the transition difficult and crying foul, this small cap company is already leading and benefitting from the electric vehicle disruption in the auto sector.
Jul 10, 2019
Affordable housing is one of the most straightforward growth stories in India. This will help the real estate sector to come out of the slump.
More