Why Tata Power Share Price is Falling
Jul 28, 2022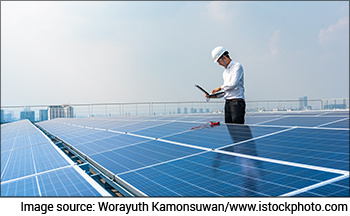 Editor's note: Yesterday, on 28 July 2022, share price of Tata Power fell 5% after the Tata group company posted its Q1 earnings.
Tata Power, one of the top renewable energy companies in India, slumped 5% despite posting strong quarterly performance.
But why did this happen?Is there something Mr Market knows that retail investors don't?
In June 2022, we wrote to you about why Tata Power share price is falling.
A similar downward movement was seen back then, and we wrote about the likely reasons for the downfall.
A lot has happened since then. Continue reading to know the latest developments...
Why Tata Power Share Price is Under Pressure
It seems like this has been Tata Power's motto not only for its green energy plans for the future but even for its share prices.
India is the fourth largest green energy market in the world. Tata Power is making the most of this opportunity, and investors are pleased with this.
Tata Power achieved a 52-week high price of Rs 298 on 7 April 2022.
On 14 April 2022, Tata Power announced that along with BlackRock Real Assets and Mubadala Investment, it will invest Rs 40 bn in its renewable energy subsidiary, Tata Power Renewable Energy.
Apart from this, Tata Power Solar commissioned a big solar plant for Brookfield Renewable India. This project was completed 5 days ago.
Hence, all of these developments have been on the greener side of the grass. But in the context, the stock is telling a different story.
In the last 5 days. Shares of the company fell by 7%.
Read on to find out why suddenly the share price took a U-turn.
Why is Tata Power Share Price Falling?
#1 Moving in tandem with Mr Market
History will be evident when people talk about 2022 as the year of volatility.
It is safe to say that no matter how strong or big a company is, they have all been knocked out clean by the punch of global downfall.
Tata Power is not an exception to this, and it has moved with the market.
The BSE Sensex and NSE Nifty fell in the past 5 days and hence Tata Power's share price has also been falling in line.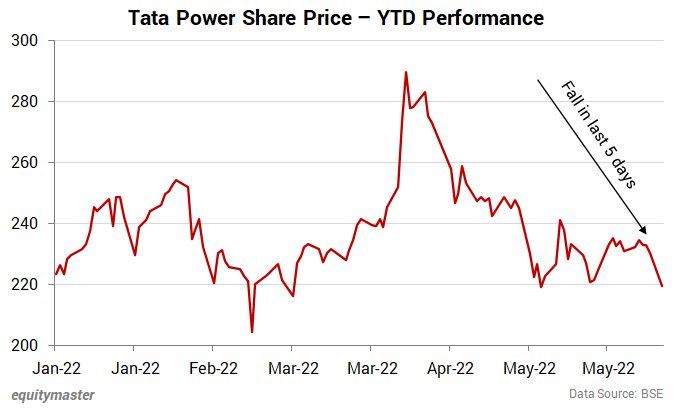 It should be noted that Tata Power's share price had taken a hit when its Q4 results were out.
The renewable energy company had presented stellar financial statements and yet the share price fell because the results did not meet the expectations of the market.
The coal segment of Tata Power underperformed and increasing debt levels in the face of rising inflation also raised concerns. Hence, the share price fell after the Q4 results.
#2 FII selling
Interest rates are rising in developed markets like the USA. This makes the emerging markets less attractive for FIIs because the risk-free rate of return reduces.
Hence FIIs sell their holdings in companies operating in emerging markets like India to return to the safety of dollars. FIIs have sold Rs 1.5 tn so far in 2022.
FIIs are booking profit in this period, hence they have also been selling the shares of Tata Power.
FIIs have been reducing their stake in Tata Power since March 2021. FII stake stood at 12.44% in the quarter ending December 2020.
It reduced to 10.82% by March 2022. This stake sale by FIIs added insult to the injury.
At a time when FIIs are looking for returns in any kind of market, they'll sell whatever they can, even their favourite stocks.
For more details, check out Tata Power's latest shareholding pattern.
Update: The trend continued for the quarter ended June 2022 as well where FIIs sold shares of Tata Power.
Joining the bandwagon were mutual funds which reduced their stake to 3.83% from 4.83% in the previous quarter.
#3 EBITDA fails to excite investors
Update: Adding to the list of reasons why Tata Power share price is falling, investors are not enthused by the company's quarterly performance.
Earlier this week, Tata Power posted a 90% rise in its consolidated net profit to Rs 8.8 bn for the June 2022 quarter.
Revenues also showed a significant rise of 42% to Rs 146.4 bn.
Now these are solid numbers that the company has reported, and they even beat street estimates. So why then did Tata Power fell 5% on the day it posted results?
It appears Tata Power failed to excite investors on the earnings before interest, taxes, depreciation, and amortisation (EBITDA) front.
Tata Power's EBITDA fell to Rs 21.1 bn from Rs 23.7 bn reported last year.
The fall in EBITDA this time can be attributed to a favourable regulatory order in Mundra last year.
And you know what happens when a widely tracked company like Tata Power misses estimates and has even a small concern to report?
Brokerage houses downgrade the stock. Global brokerage CLSA did the same. It gave reasons such as there are no immediate triggers for the company at present and it is expensive at the current valuations.
So, one reason for the recent fall could be this as well.
Why the fall looks like a temporary blip
Based on the above reasons, it seems like Tata Power's fall may be temporary. Once the market recovers, the share price should recover too.
Tata Power has great potential as it is one of the lead players in the field of renewable energy.
Recently, the company said it has plans for a consolidated capex of Rs 140 bn in 2022-23, including a Rs 100 bn investment in the renewables sector.
100 bn! That's massive.
That's not all. Tata Power in its AGM announced a massive investment of Rs 750 bn towards renewable energy.
As India prepares to leap forward in developing its renewable energy sources, the company is equipping itself every step of the way.
Tata Power currently has a total renewable energy capacity of 5,524 MW, with an installed capacity of 3,634 MW and 1,890 MW under various stages of implementation.
Tata power's ambitious plans highlight the company's eagerness to lead the explosive renewable energy segment.
However, it should be kept in mind that renewable energy is not all rainbows and unicorns.
This industry has its fair share of challenges.
Apart from renewable energy, Tata Power is also involved in the sunrise electric vehicle industry, which is an added benefit.
The Tata group company is tying up with realty developers and installing charging stations at a rapid pace.
Tata Power may go down further if the share markets do not recover soon. Hence, an investor makes analyse the risk and rewards carefully before investing.
To know more about the company, you can visit its factsheet and quarterly results.
You can also compare Tata Power with its peers.
Also check out the detailed comparison editorial between Tata Power vs Adani Green and which power stock is better.
Happy Investing!
Disclaimer: This article is for information purposes only. It is not a stock recommendation and should not be treated as such. Learn more about our recommendation services here...